Drew Barrymore and Jessica Lange Star In 'Grey Gardens', Premiering Tonight On HBO

They were once steeped in affluence and privilege, enjoying a luxurious lifestyle in East Hampton while they defied convention amidst the social royalty. Based on the women who inspired the Maysles Brothers' 1975 documentary, the HBO Film starring
Drew Barrymore
and
Jessica Lange
, tells the story of "Big Edie" and "Little Edie" Bouvier Beale, relatives of Jacqueline Onassis, whose eccentric, mutually dependent lives played out in a decaying house known as
Grey Gardens
. Using the documentary as a framework, Michael Sucsy's original story for
Grey Gardens
offers a wry, behind-the-scenes look at the Beales and their unique mother-daughter bond. Told over the span of four decades, the film focuses on their glamorous and well-heeled lives long before the making of the documentary and on the circumstances behind their riches-to-rags story.
Daniel Baldwin
and
Malcolm Gets
co-star with
Ken Howard
and
Jeanne Tripplehorn
.
Directed by Michael Sucsy; story by Michael Sucsy, teleplay by Michael Sucsy and Patricia Rozema. Lucy Donnelly, Rachael Horovitz and Michael Sucsy are executive producers; David Coatsworth produces.
Don't miss
Grey Gardens
Tonight, Saturday, April 18 at 8 pm ET-only on HBO!
Official Trailer: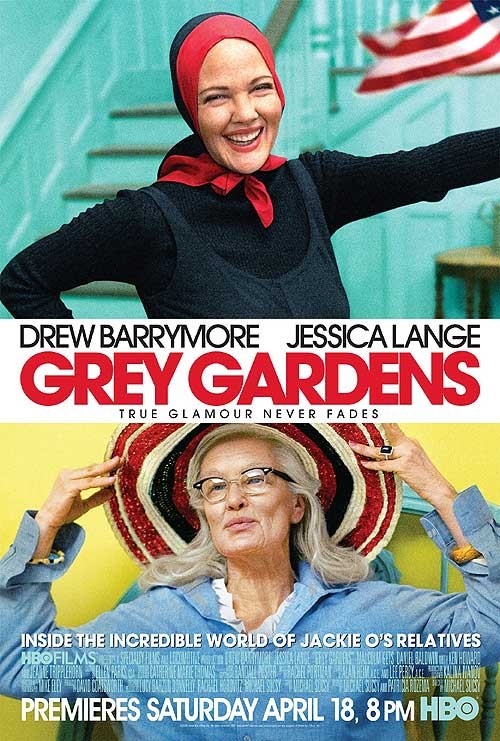 Join the Grey Gardens Facebook page!
Official Site