Dress Battle: Rihanna Vs Keira Knightley - Who Wore The 'Optical Illusion' Dress Better?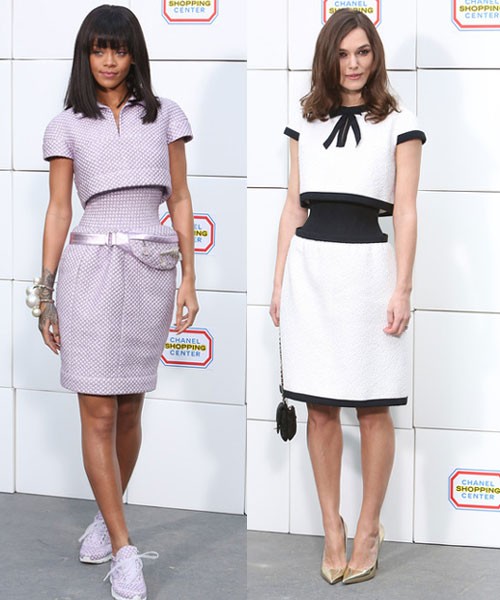 Keira Knightley and Rihanna both wore an "optical illusion" dress to a Chanel fashion show - so who wore it better?
Keira received the majority of the attention for wearing the dress, as it minimized her already-slight waist, but Rihanna wore a close replica. Keira's black-and-white design may have created a created a greater illusion than the purple-and-white-checked pattern on Rihanna's. Rihanna's fanny pack and running shoes are more casual accessories to Keira's black clutch and golden heels.
Keira previously revealed her family had a history with anorexia, but claims she has never had the disorder. She told Britain's Daily Express: "The anorexic stuff is always going to have an impact, so I think it did hit pretty hard. I knew I wasn't anorexic, but it made me think maybe my body is somehow not right. Or my face is not right."
Rihanna seems to have a similar "problem" with being blessed with her figure. "I have no idea how I continue to lose weight. It's actually pretty annoying because I have no butt. It's an issue. I'm eating McDonalds at like 3 a.m.," she told Ryan Seacrest a few years ago.
Who do you think wore it better?