Dress Battle: Rihanna & Gwyneth Paltrow In Sexy Black Dresses At The Grammys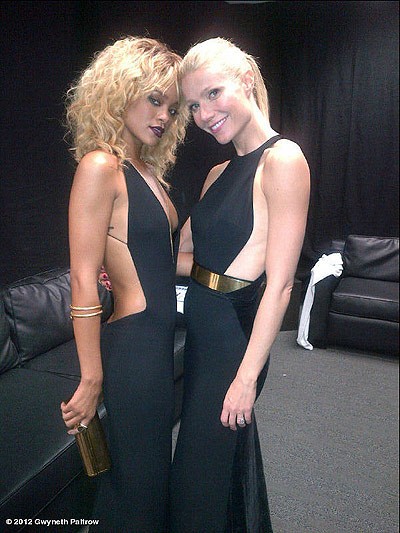 Rihanna & Gwyneth Paltrow hooked up backstage at Sunday night's Grammy Awards and the actress Tweeted a picture of the two stars in their sexy black dresses to her WhoSay page. Who do you think looked better?

Gwyneth, dressed in a Stella McCartney dress, tweeted the simple message, "@rihanna say whaaat?" along with the photo. Rihanna's helped design her dress with Giorgio Armani. The singer wanted it to look similar to Michelle Pfeiffer's dress from Scarface. She's so gangsta now!

Coldplay singer Chris Martin (aka Mr. Gwyneth Paltrow), duetted with Rihanna on Coldplay's latest single "Princess Of China" after Rihanna's performance of her hit song "We Found Love". Martin joined his band after their duet to perform "Paradise", the latest single from their new album, "Mylo Xyloto".

During the ceremony Gwyneth had the pleasure of introducing Adele before her rousing performance of hit "Rolling In The Deep". Her connection to Adele? She covered the British singer's "Turning Tables" on an episode of Glee last year.


Click through to see more pics of Rihanna from the Grammys...