Dress Battle! Paris Hilton Vs. Joanna Krupa: Who Wore Her Black See-Through Gown Better?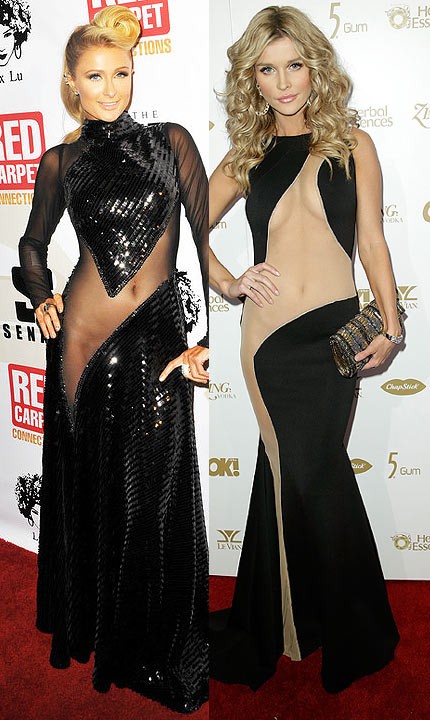 Paris Hilton and Joanna Krupa wore similar dresses with a swath of see-through material exposing plenty of skin this week, but we want to know who looked better.

Paris was spotted out wearing her Haus Of Milani cut-out number on Thursday night at Diddy's 4th Annual Red Carpet Pre-Grammy Celebration at Boulevard3 in Los Angeles; and Joanna took on a similar look Friday night at VH1's 17th annual Friends 'N' Family 17th Annual Pre-Grammy Party at the Park Plaza Hotel in downtown L.A.

Paris has recently found a new career as a club DJ. In fact, she's one of the top-five in the world, if you can believe that.

TMZ caught up with her at LAX last month as she returned from a trip to Moscow. She made the claim and they did some digging, finding out that she pulls in over $100,000 per hour when she DJs.

Back in August she signed a deal for a residency in Ibiza for the summer of 2014.

Joanna wore her Michael Costello dress a day after Paris, prompting many to say she copied the look -- but she told E! News that she had her eye on her gown since late December.

"I fell in love with this dress about a month ago," she told E!. "He actually sent it to Jennifer Lopez. I guess she didn't wear it, she sent it back. So, I said can you let me wear it please?"

The style is nothing new though, "Thor 2" star Jaimie Alexander wore something very similar on the red carpet of the film's premiere back in November.

And naturally, they all have to go commando to pull off the look.