Dress Battle: Mischa Barton Vs. Audrina Patridge Bare Midriffs In White Crop Tops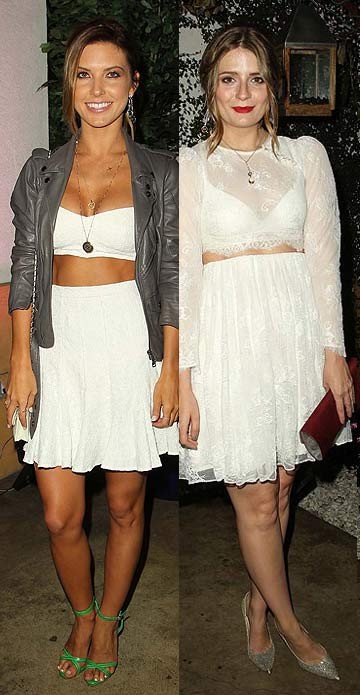 Mischa Barton and Audrina Patridge showed up to the Fire and Ice Gala Benefiting Fresh2o at Hollywood's Lexington Social House on Thursday wearing similar outfits. Who looked better?

Both stars wore midriff-baring crop tops paired with white skirts. Mischa wore a see through lace top over her ensemble, while Audrina showed off cleavage.

The gala benefited Fresh2o, an organization that helps provide clean water and sanitation to poverty-stricken areas around the world in order to combat water-related illnesses, which, believe it or not, kill more people annually than anything else.

Mischa recently gave a rare interview to The Daily Beast, revealing that she's now very thankful that she's not constantly in the spotlight and on the covers of the tabloids.

"I just think there's a negative side -- obviously, that's an understatement -- to having all that attention," she told the website. "Because it's not friendly. It's invasive. I find, in order to get your job done, actors need a certain amount of anonymity."

"When you just want to go on vacation and you hear a twig snap and there's a guy in a tree, it's not relaxing," she adds. "You can't be a real person. So I'm happy things have changed."
Click through for more pics of Audrina and Mischa...