Dress Battle: Jessica Chastain Vs. Sofia Vergara At The Producer's Guild Awards - Who Looked Better?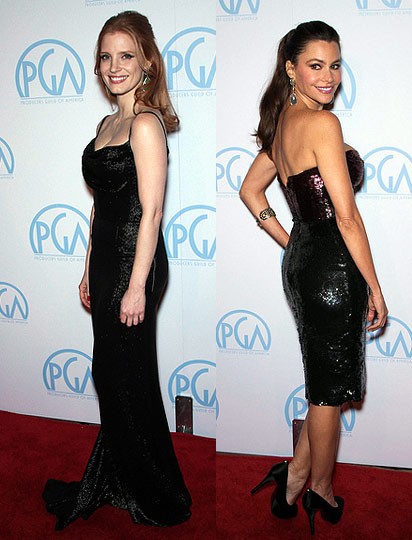 Gorgeous The Help star Jessica Chastain and sexy Modern Family star Sofia Vergara were on hand to support the producers they worked with in 2011 at this year's 23rd annual Producers Guild Awards Saturay night. Both stars looking stunning as ever, but we can't decide who looked better.

Jessica wore a black Balenciaga dress and Sofia's red and green sequined dress was designed by Monique Lhuillier.

Sofia's night was a success - her show Modern Family's producers Paul Corrigan, Abraham Higginbotham, Steven Levitan, Christopher Lloyd, Jeff Morton, Jeffrey Richman, Dan O'Shannon, Brad Walsh, Bill Wrubel, and Danny Zuker came away with the The Danny Thomas Award for Outstanding Producer of Episodic Television, Comedy.

Unfortunately for Jessica, The Help failed to land the The Darryl F. Zanuck Award for Outstanding Producer of Theatrical Motion Pictures. That award went to current Oscar frontrunner The Artist.

Sofia was ecstatic after the win, Tweeting, "Wooohooo!! Modern Family wins!!!!!"

Earlier in the day she had a little slip-up on the social networking site, leaving the message, "Award night again! Producers guilt awards." Oops.

The event was held at the Beverly Hilton Hotel in Beverly Hills, Calif.

Who looked better - Jessica or Sofia? Leave us a comment below!