Dress Battle: Fergie Vs. Kim Kardashian - Who Looked Better On New Year's Eve? (Pics)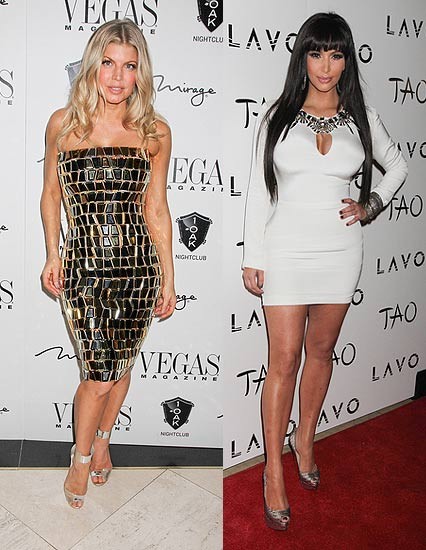 Fergie and Kim Kardashian spent their New Year's Eves just blocks away from each other in Las Vegas, hosting two separate parties to ring in 2012.

Fergie, who hosted a party at 1Oak ('One Of A Kind') - which also marked the club's grand opening - wore a gold metallic dress that reminds us of a disco ball - she couldn't have worn the party dress for a more suitable occasion. She was joined by her husband, Transformers star Josh Duhamel.

The Black Eyed Peas star pulled double-duty Saturday night, hosting the west coast portion of Dick Clark's Rockin' New Year's Eve featuring Ryan Seacrest, while Jenny McCarthy spent her night co-hosting the show down in the trenches in Times Square in New York City.

Kim hosted her own party at Tao Las Vegas at the Venetian Hotel and Casino in a sheer white mini-dress. She was joined by mom Kris Jenner, who wore a tux.

Kim raked in a cool $600,000 for her appearance.

Who looked better? Leave us a comment below!