Dramatic Romantic Novels Made Into Movies By Nicholas Sparks: 'Dear John,' 'The Notebook,' & More

Nicholas Sparks
is a bestselling US author who is famous for writing dramatic and romantic tales that often include tragedy and Christian values. There are a few things you know about his books going in: it might be a little over the top, but you'll still be sobbing by the end of it somehow. His newest book-turned-movie comes out this week titled "
Dear John
," about a soldier and his love for a young girl that he woos in constant letters. Considering he has several more books that can be made into films, this is likely not the last we'll be seeing of his adaptations. Love him or hate him, his wildly mainstream appeal cannot be denied. Here's a look at the films made from his books and the best/worst parts about them.
The Notebook
"The Notebook" is certainly the most successful of Sparks' adaptations, and it was his first published novel too. To some it is still considered one of the most romantic movies, and it quadrupled its budget in the box office. Starring young actors
Ryan Gosling
and
Rachel McAdams
as the lead characters Noah and Allie, it's about love conquers all and lasts through years and separations. Noah and Allie meet when they are young but are separated due to class concerns. Noah writes Allie a letter every day for a year, but he never gets any responses. He goes to war and she goes to school. He comes back and starts restoring a beautiful plantation he always wanted, and Allie comes to see it. They talk about the past and figure out she never got his letters, and they passionately embrace even though she's engaged to someone else.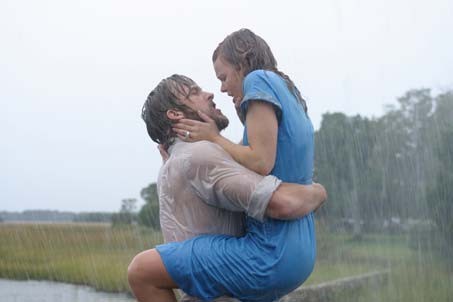 Image © New Line Productions
In the end it turns out she does choose Noah, even if she's afraid about their passionate and tumultuous relationship, and the entire story has been told by the elderly Noah. He's reading the story to Allie, who is now old herself and suffering from dementia. The couple die together with Allie remembering him at the last. While the film received mixed reviews from critics, it was a box office smash all over the world. The movie can be melodramatic at times, and one has to wonder how pure a romance can be if it is technically cheating at the time, but it really is well done and acted all around. The costumes and setting for the 40's and 50's are accurate, and it put both of the young stars on the map in Hollywood. This is no doubt Sparks' best adaptation of the four.
Message in a Bottle
"Message in a Bottle" is set in Cape Cod and stars
Kevin Costner
,
Robin Wright Penn
, and
Paul Newman
. Theresa (Wright Penn) is a newspaper researcher and during a trip to Cape Cod she finds a love letter in a bottle by the ocean. It is addressed from Garret to Catherine. Curious, she keeps finding more letters and decides to find the man himself, Garret (Costner). He lives in North Carolina with his father Dodge (Newman), and Theresa gets close to Garret as she tries to learn more about Catherine. Apparently she died and left him alone, and he still grieves for Catherine and can't forgive her.
He starts a relationship with Theresa and things seem to be going well even if they are separated by a long distance. He is angry, however, when he finds the letters and that Theresa has been writing a column about the romantic 'Message in a Bottle' tale. The two do not speak again. A year later, Dodge comes to Theresa and tells her that Garret is dead, and he had one last message in a bottle ... this time to her. Cue the tears. One has to wonder if a main character can ever survive Sparks' books. This opened on Valentine's Day weekend and did well as the #1 film, and overall it made back its budget but it was not quite the box office hit that it wanted to be. Still, unlike many romances who would've found her using his story to make money somehow okay in the end, it did prefer an emotional sucker punch rather than a big warm fuzzy hug. Happy Valentine's Day everyone.
A Walk to Remember
"A Walk to Remember" is even more cheerful (note sarcasm) than the other films on this list. It's depressing just writing about them. Are these experiences masochistic or cathartic? Anyway, in this one Landon (
Shane West
) is a popular bad boy who gets in trouble and might get expelled. He has to do after-school activities to make up for it and he meets sweet, Christian Jamie (
Mandy Moore
), the daughter of the church's pastor. They are in different social groups, since Jamie is shy and quiet and Landon is popular and extroverted. He is forced to be in the spring musical and asks Jamie to help him with lines. She tells him he is not to fall in love with her, and he laughs. The audience laughs too, because that's the whole point of the movie. Who says that to someone anyway? Don't fall in love with me.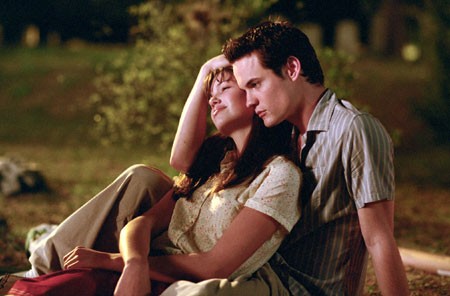 Image © Warner Bros.
Hey guess what, he does! They become friends first and then he mocks her in front of his friends, then he feels bad about it and she cuts him out of her life. Landon kisses her in the play, but she still won't forgive him. They make up when he protects her after an awful joke at school, and he asks her father for permission to date. Then they're in love, but the twist has yet to come, because there are no happy endings in the land of Nicholas Sparks. It turns out Jamie has terminal leukemia and she is dying. Landon freaks out at first, but he remembers he loves her and they stay together. He marries Jamie at the church she wanted to before she dies. Four years later he still loves Jamie and he's on the right path, thanks to her. To be fair, Jamie was based partially off of Sparks' sister who died relatively young, and thus it was a personal story. The movie did decently in the box office, but critics were not too fond of it. Sensing a pattern?
Nights in Rodanthe
"Nights in Rodanthe" is the most recent Rodanthe film, and probably the one least liked by the critics entirely. I bet you can guess how it did in the box office, though: well! Surprise. The film stars
Diane Lane
and
Richard Gere
as Adrienne and Paul, the newest pair of star-crossed soon-to-be-doomed lovers. Adrienne is separated from her husband and he wants to come home, but she doesn't know if she wants him to. She goes to North Carolina to stay at her friend's bed-and-breakfast for the weekend. It is a beautiful place right on the beach. The only other guest is Paul, an emotionally cold surgeon who is being sued by the family of a dead patient. The two are trapped inside during a storm and become friends, and then lovers who open up to one another about things they'd never say to anyone else.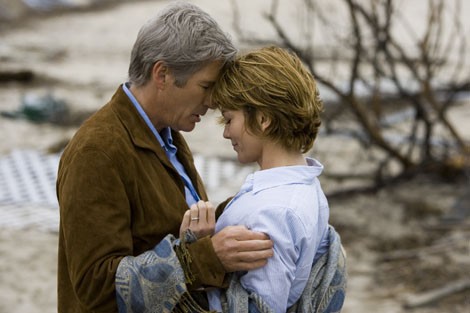 Image © Warner Bros.
Paul is inspired to go to South America and speak to his estranged son, and he stays there to help his son with the natives. Adrienne and Paul exchange letters, but (can you see this coming?) Paul is killed in a mudslide. His son Mark (
James Franco
) comes to tell her himself and gives her Paul's belongings and his thanks for giving him his father back. Adrienne is devastated and alone, but she finds some solace in a random herd of wild horses running by her. Listen, there are signs and things the audience has to just accept in Sparks' films, but the wild horses? Maybe a little too much. Still, the cast is pretty solid and it's always great to see movies that embrace the idea that love knows no age. With all the romances these days that center on beautiful young people, it's pleasant to see beautiful middle-aged people getting some love. This movie might be the most over the top of the four, but it's more or less the same kind of thing.
Story by
Chelsea Doyle
Starpulse contributing writer
Follow Chelsea on twitter at http://twitter.com/mustbethursday.