Drake Cancels Show Due To Stomach Flu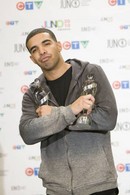 Rapper Drake struggled through a show in Texas on Friday night after falling sick with stomach flu.

"The Best I Ever Had" star, who is currently on tour in the U.S., began feeling ill this week, but refused to cancel a gig at The University of Texas (UTA) in Arlington.

Drake made it through the show, but canceled a subsequent appearance at the Club Zouk venue in Dallas later that night and apologized to fans in a post on his Twitter.com page on Friday.

He writes, "Seeing a doctor about this stomach flu... UTA gave me life! Sorry to all my family at Club Zouk that I won't be seeing tonight. Be back soon."

Drake is due back on stage in Tucson, Arizona on Sunday.