Dragon Con 2014: Sean Magee Gets Us Social Media Ready For This Weekend's Convention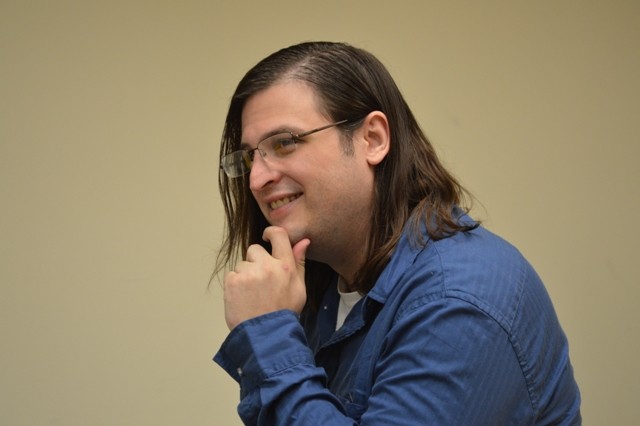 Dragon Con 2014 is upon us! The massive Atlanta convention gets underway tomorrow, and our coverage begins with introducing you to some of the folks who make it possible. Sean Magee is one of Dragon Con's Directors of Social Media: he and his team bring Dragon Con to Twitter, Facebook and all your social media platforms. Sean kindly connected with us this week to talk about how he keeps on top of everything at the convention, and how you can get connected during this weekend's festivities.
Hosted in Atlanta, Dragon Con is one of the country's biggest pop culture events - right up there with San Diego Comic-Con, New York Comic-Con, and WonderCon. This week's convention features guests like Giancarlo Esposito from Breaking Bad and the cast of SyFy's Being Human.
What does it take to handle the social media for an entire convention? About a year's worth of work for Sean and his team.
"Thankfully, Dragon Con has adopted a social media plan that continuously runs year-round instead of picking up the pieces before each year's event," he told us. "This means we are allowed to start preparing for the following year's Dragon Con a month or so after the current year's. As the social media team, we have focused our efforts on engaging with as many of the Dragon Con fan base as we can, each day. Keeping in mind that the social media team is completely volunteer-based, we still are working every day to insure that the information the Dragon Con fans need to know is put up for them to see as fast as possible.

"Before the month of August, the social media team spends most of their time answering questions, posting engaging content, and taking suggestions/ideas that we pass along to those who will benefit from hearing them," Sean continued. "This allows us to function as a two-way communication for both Dragon Con and its fans. We are always listening to the slew of platforms and reporting on what we hear to the different parties (directors, senior directors, etc).

"During August, we start planning and scheduling the slew of announcements that will go up during the event: track updates, track events, event announcements, etc. while also planning out what we will cover and deal with any announcements that may need to be made during the event. We suffer from the same lack of connection that every other fan suffers at the event, so we even have a map of where we can go to connect to the internet!"
What advice would Sean give to the thousands of fans who are on their way to Dragon Con this year? "Get involved!" he enthused.
"One of the main boons of Dragon Con is the fact it is a gigantic gathering of over 60,000 new friends. For the most part, I have yet to run into someone at Dragon Con that I have not become friends with; both on social media and at the event. There are so many official and unofficial communities that reside under the Dragon Con umbrella, it is impossible to not find a group of people you can probably form a lasting friendship with. There is nothing but the love for all things nerdy & geeky when you deal with anything Dragon Con.
"Dragon Con has an official group on Facebook with over 13,000 people just waiting to talk with you! There are even more fans of Dragon Con on Twitter that love to chat. I have even started up a conversation with people at a Starbucks down the road from me," he said. "We love to talk. There is a team of six of us going around talking with whomever we can on social media. If you tweet us at @DragonCon, you will almost always get a response! We even try to keep up with the barrage of messages on Facebook."
And yes, being employed to run social media for a major pop-culture convention is exactly as much fun as you think it would be. During Dragon Con, Sean gets to go out and enjoy the festivities with everyone else.
"One of the main perks of being on the social media team is fact that at the convention, our main job is to show how awesome Dragon Con is!" he told us. "This is accomplished by us going around and experiecing the event with the fans - engaging with them, taking pictures, and immersing ourselves in the culture. So, in essence, we get to put on our Dragon Con attendee hats and have fun, which is the perk of working year-round instead of just for five days.

"Personally, as a Director of Social Media, I make sure I am available to handle any questions from my team or other sources. [I'm] ensuring any important information gets announced, monitoring the sentiment of the event, and making sure #DragonCon is trending [on Twitter] as number one, of course! It's a fun position, especially with the amazing team I have working with [me]."
"From a social media standpoint, I can gauge the success [of the convention] by viewing the overall sentiment of the conversations that occur starting Tuesday after the weekend," he continued. "Am I being bombarded with awesome pictures in my feed? Am I seeing tales of Dragon Con craziness? Those are the clear signs to me that the event has had another successful year. The only thing I enjoy more than ramping up the excitement a few weeks before the event is spending the months following getting to enjoy everyone's experiences through their stories on social media."
"Dragon Con is the most fun experience I have ever had with social media," Sean told us, "because of everything it involves. It's like the mecca of social media opportunities."
Dragon Con 2014 begins tomorrow, August 29, 2014 and runs through Monday, September 1. To keep up with Sean and the rest of the social media team, follow the convention on Twitter (@DragonCon) or visit the official website (dragoncon.org).