'Drag Me To Hell' On DVD & Blu-ray October 13

Celebrated director
Sam Raimi
returns to the horror genre with a vengeance with the critically acclaimed
Drag Me To Hell
, starring
Alison Lohman
,
Justin Long
, Lorna Raver,
David Paymer
,
Adriana Barraza
and Dileep Rao. A nerve-rattling expedition guaranteed to elicit the most unimaginable fright, "Drag Me to Hell" is the spine-tingling tale of a young woman's desperate quest to break an evil curse and save her soul from eternal damnation.
Both the Blu-ray Hi-Def and DVD releases of "Drag Me to Hell" will contain the frightening, never-before-seen unrated director's cut deemed too terrifying for theaters, as well as the theatrical version of the film. The Blu-ray release also contains a digital copy of the film for a limited time only. The perfect entertainment for horror fans and suspense addicts from the master of mayhem, "Drag Me to Hell" is the perfect entertainment for the Halloween season.
Synopsis:
Christine Brown (Lohman) is on her way to having it all: a devoted boyfriend (Long), a hard-earned job position, and a bright future. But when she's forced to make a tough decision that evicts an elderly woman from her house, Christine becomes the victim of an evil curse. Now she has only three days to dissuade a dark spirit from stealing her soul before she is dragged to hell for an eternity of unthinkable torment. Director Sam Raimi returns to the horror genre with a vengeance in the film that critics rave is "the most crazy, fun and terrifying horror movie in years!" (-Owen Gleiberman,
Entertainment Weekly
)
Trailer:
Bonus Features:
Production Video Diaries — Over 30 minutes of behind-the-scenes scares, secrets and surprises featuring stars Justin Long and Alison Lohman.
Blu-ray Hi-Def (exclusive):
-BD-LIVE – Allows viewers to connect to the Internet and access new and exciting exclusive online and interactive features, including My Scenes Sharing and My Chat.
-Digital Copy – Transfer Drag Me To Hell Unrated Director's Cut to your iPod, Mac or PC and experience it anywhere, anytime!
-Universal Ticker – Exclusive on Blu-ray Hi-Def, Universal Studios Home Entertainment launches the new Universal Ticker which provides up-to-date news about upcoming titles, Blu-ray features and exclusive events!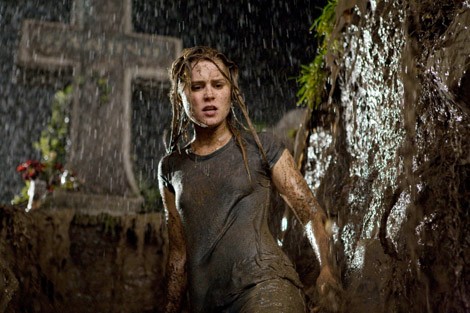 Image © Universal Pictures
Official Site
Universal Studios Home Entertainment is a unit of Universal Pictures, a division of Universal Studios (www.universalstudios.com). Universal Studios is a part of NBC Universal, one of the world's leading media and entertainment companies in the development, production, and marketing of entertainment, news, and information to a global audience. Formed in May 2004 through the combining of NBC and Vivendi Universal Entertainment, NBC Universal owns and operates a valuable portfolio of news and entertainment networks, a premier motion picture company, significant television production operations, a leading television stations group, and world-renowned theme parks. NBC Universal is 80% owned by General Electric and 20% owned by Vivendi.