Dr. Phil Settles 'Naked Man' Lawsuit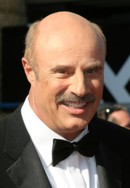 Dr. Phil has settled a legal battle with two women who alleged they were traumatized when the TV self-help guru surprised them with a naked man during a show in 2007.
 
The unidentified women claimed they felt violated after producers sent a nude intruder into a property where they were filming The Dr. Phil House to shoot their stunned reactions.

They filed suit against TV personality - real name Phil McGraw - and CBS executives in 2009.

A judge has now dismissed the case after both sides agreed to a settlement, reports TMZ.com.