Dr. Drew Clarifies His Feelings On Amy Winehouse, Jeff Conaway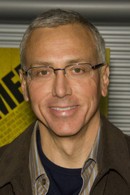 Between Celebrity Rehab and his HLN show on CNN, Dr. Drew Pinsky has said a lot about celebrities struggling with addiction in the public eye. After introducing his new show, Dr. Drew's Life Changers on The CW to the Television Critics Association, Pinsky clarified how the subject of Amy Winehouse came up on HLN.
"Just so you know what happened, people have missed the actual fact, Janice Dickinson was on my HLN show," Pinsky said. "We were doing a panel on addiction and she all of a sudden blurted out and started crying that she had given Amy my number, she was trying to call me, she said it a couple of times. I said, 'I know, Janice, it's sad, she's gone.' 'If only she had gotten through,' Janice said. I said, 'Interestingly, I actually had a couple calls from Europe last week that were on my phone. I have no idea where they came from. There was no message. Maybe that was her. I don't know. We'll never know."
Pinsky has always maintained that the cause of Winehouse's death could not be alcohol withdrawal. "Oh, it just doesn't work like that. If you're going to die of alcohol withdrawal, it happens all the time and I'm glad they said it because it raises awareness about that, but it's a progressive process. It's like a critical illness. They have respiratory failure and tachycardia and vomiting and seizures. It's not like you drop dead. It doesn't happen like that at all."
Earlier this year, Jeff Conaway and Mike Starr passed away. Both had been on Celebrity Rehab with Pinsky. Such stories are tragically common in Pinsky's world, and he has to pick up and move on to help others.
"I hate it. I hate it and I don't like working with terminal diseases. I'll tell you what drives me insane. Most of my patients today die because of prescription drugs. By most, I mean nearly all. Jeff and Mike were no exception. It makes me sick. I get past it, the next day I get to see one of my patients in recovery. It's inspiring. By the way, some of the ones that are so great, I didn't expect them to make it either. Suddenly they come back and they're fantastic. That gives me hope. I can deal with six more Kari Ann's if I can just have one more Tom Sizemore."
Find out more from Pinsky when Dr. Drew's Life Changers premieres Sept. 19 at 3 p.m. on The CW.