Dr. Carole Lieberman Tells Us Why Men Love Bad Girls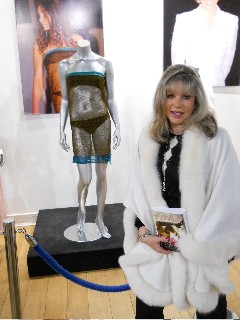 Dr. Carole Lieberman, author of Bad Girls: Why Men Love Them & How Good Girls Can Learn Their Secrets and Bad Boys: Why We Love Them, How to Live With Them and When to Leave Them, is a three time Emmy Award winner and internationally renowned "Media Psychiatrist" who analyzes the psychological impact of world events. She took the time to speak to us about upcoming Brit Week, her new book and what it is about the Royal Couple that has us fascinated.
Starpulse: Tell me about the book, Bad Girls: Why Men Love Them & How Good Girls Can Learn Their Secrets.
Dr. Carole Lieberman: Bad Girls: Why Men Love Them & How Good Girls Can Learn Their Secrets is an award-winning self-help relationship book that helps men and women find the love they deserve. Good girls, stuck on the shelf waiting, while Mr. Right gets snapped up by the bad girls, can now learn what she needs to do to attract and keep the man of her dreams. And men learn how not to be 'sitting ducks' for bad girls who are out to trap them. I describe what makes each of the 12 types of bad girls tick - the Dozen Dangerous Damsels.
Starpulse: What do you think was so special about the dress that Kate wore the night Prince William first saw her?
Dr. Carole Lieberman: Kate and William had just been platonic friends before the fashion show where Kate wore the sexy dress that made William turn to his friend and say, "Wow! She's hot!" Kate turned this see-through skirt, by design student Charlotte Todd, as part of her Art of Seduction line, into a dress, which she wore over black lingerie. 
Starpulse: What is so special about Brit Week?
Dr. Carole Lieberman: Brit Week is a wonderful celebration of the contributions Brits have made to California. It is an opportunity for all-things British to shine and for people to appreciate the contributions to fashion, art, science, entertainment and so on, that the UK makes. We all know about movies like "The King's Speech," and TV hits with Simon Cowell, but there is so much more. 
Starpulse: How do you think Kate managed to steal the heart of Prince William?
Dr. Carole Lieberman: I call Kate the "quintessential good girl who used bad girl secrets to catch her prince." Wearing the dress in the fashion show was the most dramatic example, but there were others. When William saw her walking down the fashion runway, it wasn't just that she had a beautiful body, was all glammed up, and wearing a sexy dress. It was the fact that she had the audacity to model this dress at her college show that made him appreciate her self-confidence, spunk and adventuresome spirit. 
Starpulse: What is the best piece of dating advice you have received?
Dr. Carole Lieberman: The dating advice that I, and most women, have received is all wrong. It's not enough to have a good heart and wait for your prince to knock on your door. I help women discover how to land a prince of their own by using bad girl secrets that I distilled from interviewing over 100 men who had been in relationships with bad girls. They told me what attracted them and what kept them hooked. A lot of women are afraid to make an effort because they have been hurt before and don't want to be hurt again. So, although they say they want a boyfriend, they don't want to risk rejection. 
Starpulse: What do you think it is about bad girls that makes them so appealing?
Dr. Carole Lieberman: Bad girls make men feel like the biggest studs on the planet. Each of the Dozen Dangerous Damsels does it in her own way, which attracts certain types of men. Men fall for bad girls because they unconsciously feel that if they ride in on a white horse and rescue them, these women will love and appreciate the men forever. But bad girls break men's hearts. 
Starpulse: When do you think the royal couple will have a baby?
Dr. Carole Lieberman: The royal couple are very sexually attracted to each other, so they most likely make the best use of the time they have together.... 
Starpulse: Tell me about the Polka Dots & Moonbeams party.
Dr. Carole Lieberman: The Polkadots and Moonbeams party will be a Fashion Nite Out, where women will be able to see Kate's sexy dress up close and personal - modeled in a mini-fashion show - and they will be able to buy one of the limited-edition replicas of the dress. When I went to London to bid on the original dress, I met the designer and became the 'U.S. Ambassador' of Kate's sexy dress, meaning that the only place you can get the dress in the U.S. is from me. I say: armed with the dress and my book, Bad Girls, any woman can catch a prince of her own! At the party, women will learn Kate's fashion secrets. 
Starpulse: What's up next for you?
Dr. Carole Lieberman: I will be involved with the upcoming royal exhibit on the Queen Mary - and will be conducting 'How to Catch Your Prince' workshops for women, and 'How to Not Be Trapped by a Bad Girl' workshops for men.
For more on Dr. Carole Lieberman, check out: www.badgirlsbook.com.