Dozens Injured As Roof Of London's Apollo Theater Collapses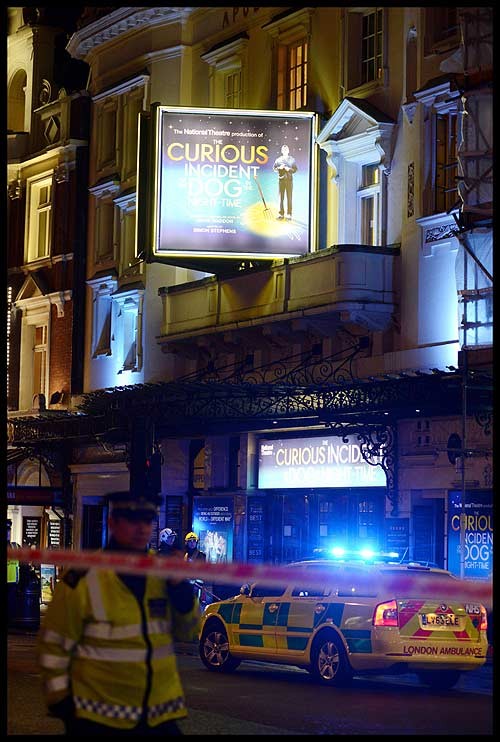 Eighty-Eight people have been injured after the roof of the historic Apollo Theatre in London's West End collapsed Thursday evening.

The 112-year-old theater had a full audience in house for a performance of the play "The Curious Incident of the Dog in the Night-Time" when parts of the concrete ceiling began to collapse, falling on patrons and trapping several inside.

Emergency personnel arrived on the scene around 8:15 London time after most of the audience and staff evacuated the building.
First responders helped free those who were trapped and treated 81 for minor injuries. 51 patrons were hospitalized, of those seven had suffered serious wounds, according to London's Globe and Mail.

According to a London Fire Brigade spokesperson, an estimated 700 people filled the theater for the performance. The rep confirmed that "heavy plaster" from the ceiling fell to the floor, damaging the balconies and causing more flying debris on the way down. The cause is currently being investigated.

One patron told Britain's Sky News that the incident was "terrifying and awful."

"I think the front part of the balcony fell down. At first we thought it was part of the show. Then I got hit on the head," the theatregoer said. "It was complete chaos in the theatre. Absolutely terrifying and awful. We got out with cuts and bruises. I think most people did."

Adapted from author Mark Haddon's book of the same name, "The Curious Incident of the Dog in the Night-Time" has been getting rave reviews since it debuted in March.
"It's been horrifying sitting here watching what has been happening at the Apollo this evening," Haddon told the Globe and Mail. "I'm hugely relieved that no one has died."