'Downton Abbey' Season 4 Premiere Recap – Welcome Back!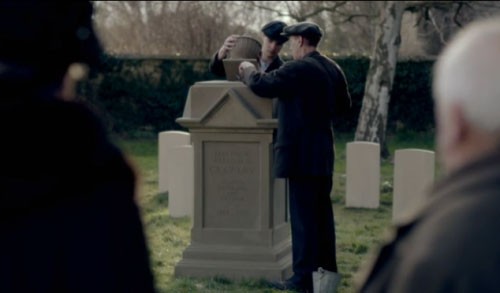 Warning: Spoilers ahead for season 4, episode 1
After last season's devastating finale, we've spent a year waiting to see how the characters of Downton Abbey would move forward without its leading man and heir, Matthew Crawley.  The season 4 premiere picks up 6 months after Matthew's untimely demise, and at a crossroads for Mary.  As the wise Dowager Countess tells her, she must choose between either death or life.  And while she spends the first half of the episode in a grief-stricken fog, in the second half we see Mary rejoining the land of the living.  Welcome back, Mary, and welcome back, Downton Abbey!

I found the majority of last night's premiere to be a delight.  The actors were in top form, the storylines (for the most part) engaging.  There was so much going on in last night's episode, I'm going to mainly focus on the highlights.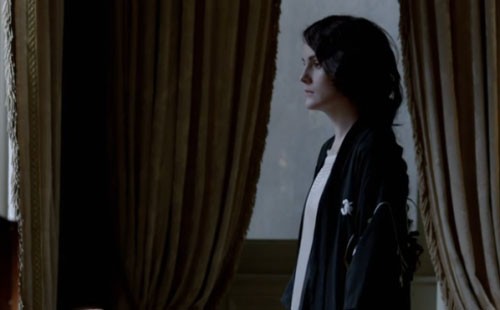 Upstairs the house is divided over how Mary should handle her grief.  Wait, let me correct that: everyone but Robert thinks it's time Mary move on and perhaps take an interest in something other than staring out the window and…well, just staring in general.  But Robert thinks she should go on wallowing in her grief, and in the meantime he'll just reclaim the reins and run the estate.  After two really wonderful scenes between Mary and the Dowager and Mary and Carson (really, those two scenes stole the show for me), Mary finally comes around to the idea that it's time to rebuild her life.  Good thing Mary thinks of Carson as a second father, because she certainly doesn't receive much support from her dear Papa when she expresses an interest in running Downton.  We got emotional whiplash, watching Robert go from telling everyone to handle Mary with kid gloves to giving her a very public verbal smack down about how she doesn't know anything about managing a farm.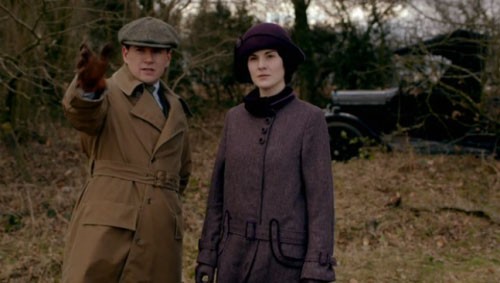 But not to worry, because Branson, er, Tom, is ready to teach Mary Estate Running 101 (that's, right: a former chauffeur/revolutionary teaching a lord's daughter about farming).  Mary is somewhat doubtful (and rightfully so because of the aforementioned reasons) about whether or not she can do this.  But Matthew reaches from beyond the grave to instill some confidence in her with yet another convenient dead-character-letter, a plot device I think Fellowes should patent at this point (first there was Reggie Swire, then Lavinia, and I swear if Sybil hadn't been suffering from eclampsyia she would have penned one too, though she had more time to talk to everyone about her wishes before she died, so I guess it wasn't necessary).  While I was preparing for a good eye roll, the letter was actually kind of nice, contrived as it was.  Recall how, in season 1, Matthew really wasn't pleased about inheriting Downton Abbey and Cora's fortune along with it.  He thought its rightful heir was Mary.  So, in a nice "full circle" wrap-up, Matthew proclaims that Mary should be the sole heiress of his fortune, and that she must take charge.  Now, why he wrote the note and then stuck it in a random book in his office, I don't know.  But look, he kept the good luck charm Mary gave him during the war!  Seeing that was the closest I came to tearing up during the episode.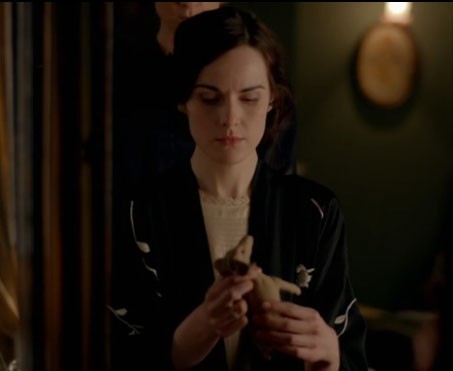 I'm excited to see how Mary rebuilds her life, and it sounds like the old Mary we knew from season 1 is returning, and she's going to need that backbone if she wants to successfully take on her stubborn Papa.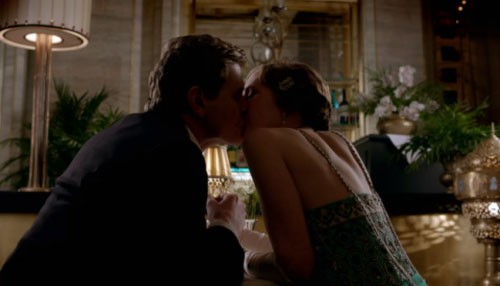 Meanwhile, Edith frequently escapes to London to see her married editor, Michael Gregson.  Her transformation is obvious by the clothing choices she makes.  She's become stylish and seems so full of life when she's around Gregson (but then, compared to Mary, it doesn't take much to accomplish this).  Gregson tells Edith he's come up with a way for them to be together–he can get a divorce if he becomes a German citizen!  Great idea, Gregson!  I'm sure nothing can go wrong there.  Right?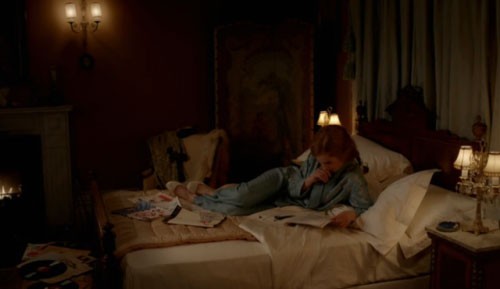 And then we have Rose.  I knew she was going to get on my nerves, I just knew it.  I'm trying to like her, I really am.  But she's that annoying added-in character whose only purpose seems to be to show us the youthful side of the "Roaring 20s."  Her bedroom is a stark contrast to Mary's, with the gramophone playing, the magazines spread out on the bed.  She's a young, hip teenager!  She wants to party.  And so she does, roping Anna into going to a dance hall with her, where she proceeds to have two men get into a fist fight over her.  And in the one "headdesk" moment of the night for me, when the guy she danced with visits Downton to see her, she comes out in a maid's outfit (since that was her alibi at the dance hall), to tell him that she is engaged to someone else…but she of course must kiss him before he goes.  Oh, Rose, you little rebel.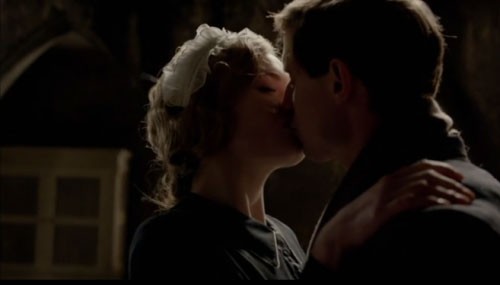 Speaking of Rose, apparently her mother decided that it was a fair trade to give Cora her annoying daughter in exchange for Cora's lady's maid we love to hate, O'Brien.  I'll admit it, I wasn't that sad to see her go (yeah, I said it).  Her plot line last year was so boring as she slowly set the trap for Thomas.  Longest. Revenge scheme. Ever.  But I didn't really care for the treatment of her departure.  She just runs away, "like a thief in the night."  What about the loyalty, O'Brien?  You weren't willing to let anybody hurt her ladyship after the Great Soap Incident.  Seemed slightly out of character, though O'Brien was always looking out for herself.  And in her place, who should we have step into the role of Conniving Lady's Maid 2.0 but Edna Braithwaite, the former housemaid who forced Branson, er, Tom, to tears during the season 3 finale by making him feel ashamed of who he had become.  Thomas already has his hooks in her, and actually schemes with her to frame Anna, ANNA!, of all people, for a blouse Edna ruined.  Seriously, Thomas?  You want to go after the nicest person downstairs, the one who is married to a man who was accused of murder and spent a year in jail?  You want to go there?  Okay, well…I guess we'll find out how that works for you.