'Downton Abbey' Season 4 Episode 3 Recap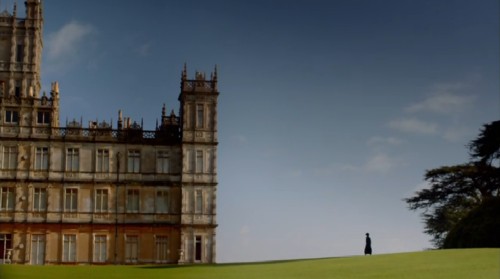 After last week's shocking episode, we Downtonites spent this week wondering what would become of Anna, and what would become of the show as a whole.  Fortunately, this week's Downton Abbey seemed to be back on track, in that the "What the what?" moments were more in keeping with the usual tone of the show.
Warning: Spoilers for episode 3 ahead!
This episode picks up the morning after Anna's horrible attack.  She's unwilling to let Bates touch her, the reason for which we later learn from her conversation with Mrs. Hughes.  Anna feels she is "soiled" and is somehow to blame for what happened to her.  As a result, she asks Mrs. Hughes if she can have a room upstairs again, leaving a bewildered Mr. Bates wondering what he did wrong to make Anna go from doting wife to icy stranger in the course of one night.  Oh, Anna.  We know you don't want Mr. Bates to hang, but perhaps you really should take Mrs. Hughes's advice and honor the "honesty is the best policy" rule.  I still feel confident that Bates is going to find out eventually.  Why make him suffer in the meantime?  I don't know if I like where this storyline is going, and while I can understand some of Anna's motivations, it seems like the focus should be more on the fact that she's been horribly violated (and thus have issues with telling her husband), rather than her being worried Bates's temper will get out of control and he'll end up in jail.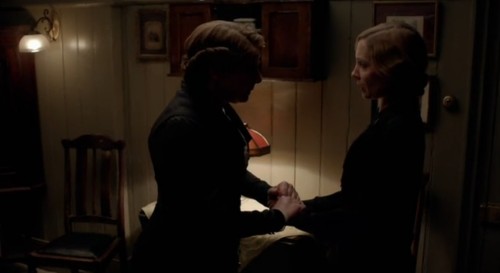 Anna and Bates aren't the only ones dealing with the aftermath of episode 2.  Edna confronts Tom and tells him that he'd better marry her if she winds up pregnant.  Poor Tom!  He spends the majority of the episode preoccupied with the fact that one terrible mistake could ruin the rest of  his life.  Fortunately, he takes Mary's advice and speaks to Mrs. Hughes about it, who quickly figures out Edna's game.  She finds a copy of Marie Stopes's Married Love among Edna's things, and knows that Edna is aware of how to prevent pregnancy.  So if she couldn't get Tom to agree, she would have been in the clear.  But if he did, she could find a way to get herself pregnant and then force Tom to marry her, thus raising her social standing.  Thanks to Mrs. Hughes's excellent detective work, Edna is sent on her way, and I truly hope it's the last we see of her.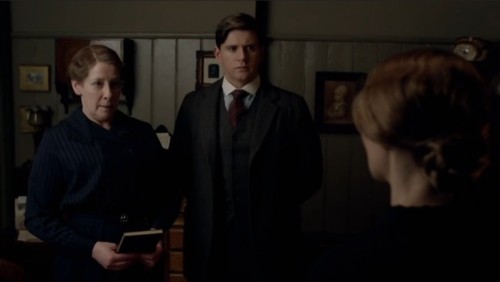 Elsewhere downstairs, the love polygon took an interesting turn (which didn't take much, given how boring it had become).  Alfred finds Ivy and Jimmy canoodling in the boot room (thanks to Daisy advising him to search for Ivy there).  After it dawns on him that he will never have a chance with Ivy, Alfred decides to enter a competition for a chance to study cooking at the Ritz.  Daisy's upset because her meddling means that Alfred might be leaving. Personally, I'd like to see Daisy enter that competition herself.  Let her and Alfred go head to head in a cook off! See, much more interesting than Alfred giving sad puppy dog eyes to Ivy, Ivy giving longing glances at Jimmy, and Daisy shooting daggers from her eyes at Ivy while she mixes something to a pulp.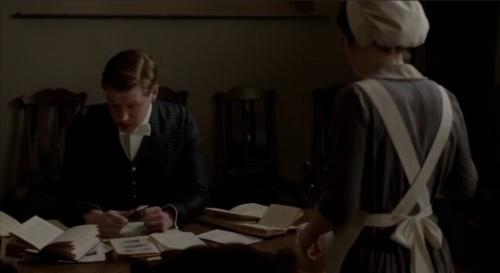 Things were slightly more cheery upstairs (with the exception of Tom).  Lord Gillingham (aka "Tony") has fallen for Lady Mary.  Hard.  He shows up at Aunt Rosamund's for dinner while Mary is in London, then goes out dancing with her at the Lotus Club.  Mary didn't seem to have any qualms about dancing this time around, though she tells Tony that she won't be ready to marry for years.  Her body language betrays the words coming out of her mouth, however, as it's obvious she's happy when she's around Tony.  Tony follows Mary and company back to Downton the next day (by slumming it in third class so the rest of the party doesn't know he's on board), and promptly asks Mary to marry him (my main "what the what?" moment of the night).  As Mary aptly points out, they've only known each other as adults for a few days.  How could he know that he's sure?  Tony replies by telling Mary she fills his brain (which sounded very odd), to which Mary appears clearly flattered.  However, in the end she rejects his proposal, and Tony accepts that he must move forward with his plan to marry Mabel Lane Fox, but not before he kisses Mary (another "what the what?" moment), who minutes before had said that Matthew still "filled her brain" and she wanted to keep it that way for now.  One has to hand it to Tony, he is quite persistent (almost borderline stalker-ish).  He leaves an even more confused Mary, who wonders if she hasn't perhaps made a mistake in turning him down.