'Downton' Abbey Recap: Season 4 Episode 5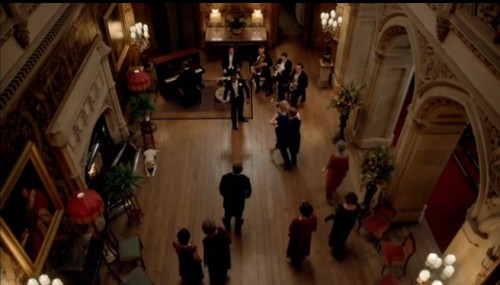 This week's Downton Abbey centered around Robert's "surprise" birthday party, and the arrival of yet another new character this season, Charles Blake.  The love polygon downstairs took an interesting turn, and Isobel and Violet quarreled over missing knick-knacks.
Warning: Spoilers for episode 5 ahead!
Upstairs, the family is abuzz over the impending arrival of pigs, something I never thought we'd hear on Downton.  But Robert's decided to get on board with Tom and Mary's idea to work the land, and Tamworth pigs seem to be their latest idea.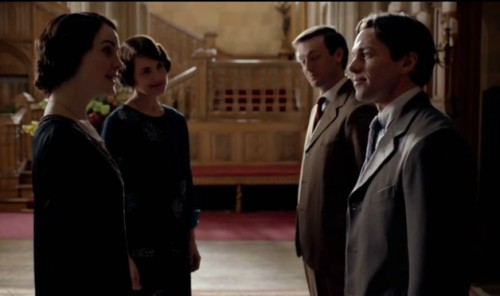 Mary is also excited by the news that Evelyn Napier has accepted her invitation to stay at Downton, along with his friend Charles Blake.  Her hope that they will advise them on how to best manage Downton soon fades when, upon their arrival, Charles Blake explains that they aren't there to help the landowners, but rather to figure out how best to use the land that is being sold off.  The two take an immediate disliking to each other, as Blake feels Mary is an entitled snob, and Mary feels Blake is an enemy who doesn't care about families like hers.  I liked the dynamic between the two of them, and hope we get to see some fun sparring, which to me is when Mary is at her best.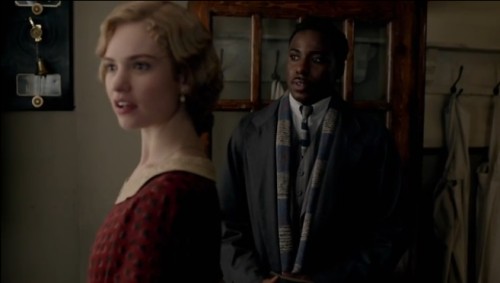 "What's everyone looking like that for?"
Meanwhile, Rose plans the big surprise for Robert's birthday–and no surprise to us, it's Jack Ross and his band.  We all knew Rose would find a way to see the charming crooner again.  Ross's arrival sends shock waves rippling through both upstairs and down.  Not only is their a jazz player in their midst, but a black jazz player.  Mary receives the biggest surprise of the night, finding her cousin Rose doing some serious making out with Ross downstairs in a dark room.  Lest we forget, one of our first encounters with Rose last season was when she went to visit a married "friend" in London, where she stayed in his home for a few hours before heading out to a jazz club.  Looks like Downton hasn't tamed her as much as her mother had hoped.
Tom still contemplates the idea of going to America.  While he admits to Isobel that he's come to love the Crawleys, he doubts another aristocrat is going to fall in love with him, and he's not so sure the Crawleys would welcome a middle class Irish woman into the family.  As they dance to jazz in the Great Hall, Isobel points out that Downton Abbey, and the Crawleys, have the ability to change with the times, and perhaps he shouldn't buy that ticket to America just yet.  I've enjoyed watching the developing relationship between those two, and it feels like Isobel has taken Tom in as a sort of surrogate son.