Doug Hutchison Drops Out Of 'Lincoln' Film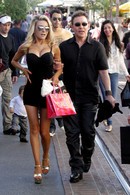 The Green Mile star Doug Hutchison has dropped out of the movie adaptation of James Harrison Cathey's The Genesis Of Lincoln over concerns about the film's sexual content.

The actor, who hit the headlines earlier this year when he wed teenage singer Courtney Stodden, was set to play a director adapting the book about assassinated President Abraham Lincoln's life, but he has now quit the project.

Producer/director Richard O'Sullivan tells WENN, "I know it's gonna surprise a lot of people to hear this, but Doug was legitimately concerned about some of the sexual content and how people might not be able to separate who he is as a person from the character he was playing.

"The role in question is that of filmmaker Drey LeBeck, a director who sets out to adapt the infamous Cathey book, who falls into a strange and scandalous relationship with the teenage pop star he casts as Lincoln's mother.

"Initially, it seemed like perfect casting, playing on the parallels. But eventually I think Doug and the character became too intertwined. Doug's a wonderful guy, a brilliant actor, and a terrific creative collaborator. Ultimately though, they're not one and the same. The character at points is not nearly as sympathetic and as likeable as Doug, and this is coming from someone who likes Doug a lot."

O'Sullivan has recast actor Robin Spriggs as LeBeck.  The Genesis of Lincoln is currently in pre-production and is set to start shooting in New York City in early 2012.