Doug Hutchison & Courtney Stodden Explain Why They Were Kicked Out Of A Pumpkin Patch (Video)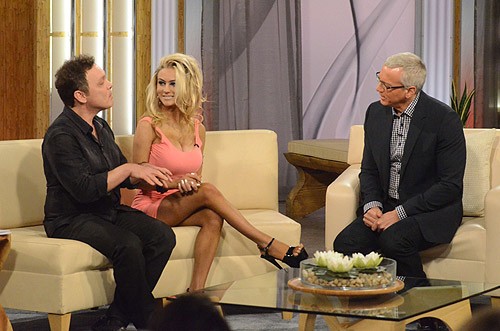 Actor Doug Hutchison and his teen bride Courtney Stodden were asked to leave a pumpkin patch in Santa Clarita, California at the weekend when parents complained about the model as she posed for pictures with kids.

Stodden, 17, was wearing thigh-high white boots, a cleavage-baring shirt and short shorts and some moms and dads were concerned she was sexing up a family fun day and wanted her to leave.

Others felt her public display of affection with The Green Mile star Hutchison was inappropriate.

The couple have hit back during a taped appearance on talk show Dr. Drew's Lifechangers, explaining they were just having fun and parents were being too uptight.

The actor says, "There were a lot of people there... who wanted to take pictures with us. We even overheard a dad say to his little girl, 'Oh look honey, they have a pumpkin patch girl this year'. A lot of the kids thought that she was, like, this pumpkin patch princess.

"There was a handful of concerned moms who went to the owners and said, 'Get her out!' So we were escorted out."

Courtney Stodden and Doug Hutchison will be guests on "Dr. Drew's Lifechangers" on Monday, Nov. 7 at 3:00pm on The CW.