Doug E. Fresh's $2 Million Tax Debt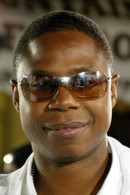 Eighties rap icon Doug E. Fresh is facing fresh financial woe after receiving a bill for more than $2.27 million in allegedly unpaid taxes.

The hip-hop star, real name Douglas Davis, had a lien filed against him by Internal Revenue Service (IRS) authorities in New York City in October, according to the Detroit News.

Davis allegedly owes $2,276,848 in delinquent taxes.

It's not the first time The Show hit-maker Davis has fallen foul of tax agents - in 2008, he was being chased by the IRS for $367,000.