Dorothy Hamill Pulls Out Of 'Dancing With The Stars' Over Potentially Serious Health Issue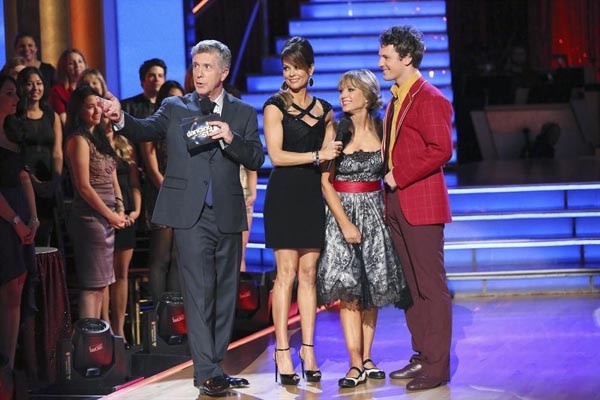 Last night's 'Dancing with the Stars' first live show and elimination had its share of surprises, most of all being the outcome.  Getting right to it - Dorothy Hamill revealed that she was withdrawing from the competition upon her doctor's recommendation due to a spinal injury.
We guess her injury was worse than thought, "I've taken the advice from my spine surgeon and I need to withdraw from the competition. It could be irreparable nerve damage and it would be completely unfair for me to stay in this and have any of these people go home," said an emotional Hamill. "It's not that I don't want to be here. I wish I could give it my all, but I can't!"
To give you more, here is a quick breakdown of last night's live show. After a group performance from the DWTS professional dancers and the DWTS Troupe, Ingo and Kym, Sean and Peta, and Wynonna and Tony were all declared safe; leaving Victor and Lindsay as the first couple in jeopardy.
The encore dance was chosen by fans via Twitter – they selected Disney star Zendaya and Valentin, who performed a Jive to everyone's delight during the live broadcast.
In more results Ali and Mark, D.L. and Cheryl were safe but Lisa and Gleb were the second couple in jeopardy.
The duo Icona Pop performed their hit single "I Love It."  Josh Groban also performed his new single "Brave" from his new album "All that Echoes."
The four new dancers to the cast introduced themselves and then gave a performance.
In more results Zendaya and Valentin, Kellie and Derek, and Jocoby and Karina were all safe leaving either Andy and Sharna or Dorothy and Tristan as the last couple in jeopardy.
Dorothy and Tristan were then declared, safe leaving Andy and Sharna as the third couple in jeopardy.
Andy and Sharna were saved meaning that either Lisa and Gleb or Victor and Lindsay would be going home; this was when Dorothy and Tristan revealed that she was withdrawing from the competition - leaving the couple who had the fewest amount of votes safe for another week.
Next week the couples go to the Prom.