Doobies Do It Right In Jersey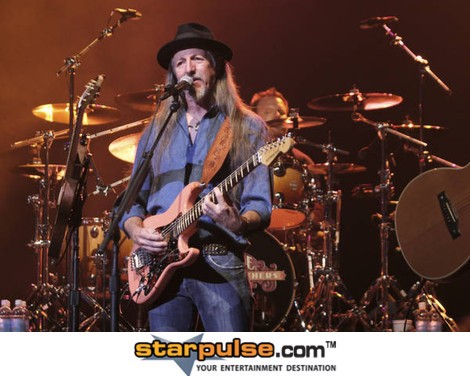 The Classics never die, that was evident on Tuesday night when the Doobie Brothers played the Mayo Center for the Performing Arts in Morristown, NJ.  I was looking forward to the show since I was meeting up with an old friend and wanted to shake up my musical landscape a bit and give something new a try since it's a bad I would not normally gravitate too. Since it's something I didn't want to do alone, I took a friend along to enjoy the concert with me. Truth be told the band was suited more to her age bracket than mind the average age was adults in their fifties, I guess all my efforts getting glamed up and ready to have a fun and flirty night out were dashed by the looks of the crowd.  However, I must say that although the Doobie Brothers were before my time, I can appreciate the music and it's evident that it's the music and the charisma they have on stage that has withstood the test of time.
I was looking forward to the show, it's the first concert I've been to in awhile I like the venue and area it was in Morristown has a lot of quaint shops and coffeehouse to browse around or lounge in and I was going to see my old friend Ed Toth who is now one of the drummers in the band.  I have known Ed since his days in the band Vertical Horizon and he is a talented musician and true friend.  After getting to the venue and getting our tickets and passes we were off to search out our seats, we were center orchestra and had great seats just far enough away so we wouldn't blow out an ear drum, there are certain bands that warrant front row and but the Doobie Brothers like Rush, aren't one of them because of the orchestration of the band it can get entirely too loud or distracting if you're up that close, although some might disagree. I think we had perfect seats. The venue is not too big and not too small and has perfect acoustics.  The Doobie Brothers put on a two hour show so there was no opener but there really was no need, their energy was infectious and it was evident they could still bring it.  Aside from a few years of musical inactivity in the mid-eighties, the Doobie Brothers have continued to perform for over 21 consecutive years.
They began the show with a warm welcome to the crowd, and kicked off the night with " Jesus Is Just Alright" and continued the night with many of their singles and their most well known hits like "Listen To The Music", " Takin It To The Streets" and " Long Train Running".  Although the songs were a hit with their die-hard Doobie Fans as much as I enjoyed them, I enjoyed their new material more off of their latest album World Gone Crazy, such as  " A Brighter Day", "World Gone Crazy" and " Chateau".
" A Brighter Day" is has calypso, and tropical island sound and highlights cymbals and drums, a very different element and scope in the Doobie Brothers sound.  "World Gone Crazy" in contrast is a departure of that and closer to the Doobie Brothers signature sound.
" World Gone Crazy" is an ode to New Orleans and is a soulful mix of gospel, R&B and has a certain southern swagger and good harmonies with raspiness and rawness to it.  Finally, there was " Chateau" a song vocalist Pat Simmons felt you needed a disclaimer saying " All you folks over fifty take your medication" implying the song's loud in your face nature and rock edge.
All in all it was a great show, but there were some disappointments like overly long intros to some songs, the fact that everyone in the band seemed to have a solo except the drummers which I thought was not only disrespectful to the band members but would have made the show more interesting and entertaining and balance out the revolving door of vocalists that seemed to change at every other song.  The highlight for me though was seeing and supporting an old friend who is not only an amazing musician but also a good person and I wish him nothing but the best of luck in all his endeavors. Till next time my friend…