Don't Miss Discovery's Shark Week, Starting Sunday Night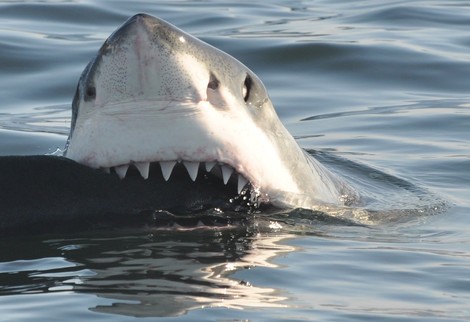 In case you're not in the mood to watch the London Olympics closing ceremony, there's a great alternative. Discovery Channel's 25th annual Shark Week kicks off tonight.

Cable's longest-running programming event includes tonight's "Air Jaws Apocalypse" (9 p.m. ET/PT). A follow-up to last year's "Ultimate Air Jaws," the special focuses on a team on South Africa's Seal Island who study great white sharks, including a large, 14-foot specimen named Colossus. The team also makes an interesting discovery: dozens of great whites cluster in shallow water and eat smaller sharks and sting rays. Of course, Colossus makes an appearance and nearly eats the video camera.
Other features to check out this week: "Sharkzilla" (Monday, Aug. 13, 9 p.m. ET/PT), which focuses on the extinct Megladon.  The size of a city bus, the creature weighed at least 100,000 pounds, had 250 serrated teeth, each six inches long. Scary! A Discovery team builds a replica of the 52-foot-long animal complete with hydraulic jaws.
"Adrift: 47 Days With Sharks" (Tuesday, Aug. 14, 10 p.m. ET/PT) is a true story about an American plane that crashes into shark-infested waters over the pacific in WWII. One Olympian and a pastor's son survive a record 47 days at sea, fighting off a gang of sharks while they battle to survive.
On Thursday, Aug. 16, celebrate Shark Week's 25 Best Bits with a jaw-dropping look back at the greatest breaches, brushes and bites with the ocean's predator.