Don't Mess With Daytime Soap Fans!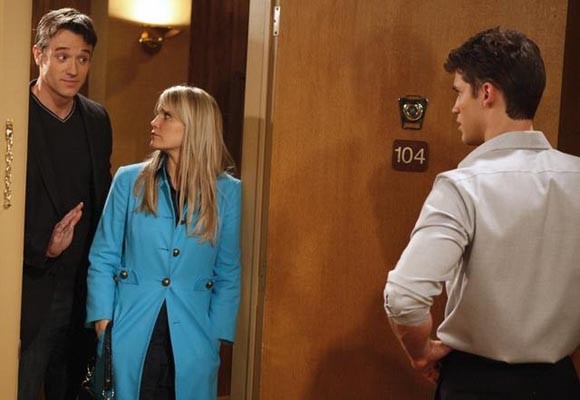 After last week's announcement by ABC Daytime about the cancellation of long running and beloved soaps, 'All My Children' (AMC) and 'One Life to Live' (OLTL), I posted an article to the soap fans on my site, Red Carpet Closet entitled:  'Soap Fans, What the Heck Happened?'  Well, they came out in droves and I heard them loud and clear.  It is no secret that fans of the genre are notoriously supportive of the shows and the actors.  So how did such a rapid decline in the ratings happen?  One name kept coming up again and again as a reason for their demise:  Brian Frons, president of Daytime for Disney-ABC Television Group.

If you go back and look at the ratings from Brian Frons' reign beginning in 2002, 'All My Children' started out at a 3.0 share during the 2002-2003 season and by last year, the show was down to a 2.0 share.  'One Life to Live' had a similar decline starting out with a 3.0 share in 2002 and dropping down to a 1.9 share in 2010.  Now, what I wanted to know:  Did the fans abandon the genre because of Brian Frons or did they leave in droves for some other reason?  I put the call out on Twitter and the supporters came out en masse to give me more insight on why the genre worked for so long and why it does not resonate as effectively in 2011.

I think the main discovery was that the fans felt that Frons was condescending to the daytime community.  Although I could not find the interview to source out the quote, there was one phrase that Frons allegedly said that is consistently mentioned in the emails and comments to me.  Reportedly, he said the daytime "audience needs to be trained like dogs."  I can imagine that idea didn't rest well with the viewing audience. In fact, his attitude towards the dying genre was downright apathetic when he talked to the Wall Street Journal about the demise of CBS's 'Guiding Light' back in 2009, "It's taking a patient off life support, not a sudden tragic death in the family or anything. I was sadder when I heard about production changes, lots of technical behind-the-scenes stuff that starts to affect talent and quality."  Does this sound like a man who was supportive of the genre that defined the ABC Daytime schedule?  (Update:  The quote is from a SoapNet interview in September 2006.)

I think there was a failure on ABC's part to understand why the fans where watching and how it resonated in their lives.  Cheryl Hutton, an avid watcher of the genre, wrote to me that the "soaps were my last real connection to my mother and grandmother."  There are often deep personal connections to the shows and the characters, but Hutton also points out that "discussing abortion, AIDS, infidelity, PTSD, homosexuality, interracial marriage, premarital sex, and other socially relevant topics of the day were just as important as love in the afternoon.  I remember when Erica Kane had an abortion.  It was scandalous back in those days."  Before we had primetime tackling these topics, the soaps embraced the controversy to stay current to each decade.  In fact, I think daytime fans, writers, and producers are more open to exploring same sex relationships than many of the primetime shows and their sanitized versions of a gay coupling even in 2011.  
It's easy to understand that with the explosion of technology, the expansion of television channels, and the need for most households to have two working parents, the ratings were bound to decline. Yet, as 'General Hospital' fan, Rebecca Carson commented to me, "Soaps are constantly caught between servicing long time viewers and the character they know and love and bringing in new audiences[s] with younger characters."  How do you blend the old with the new, satisfy advertisers, and keep the balance between the creative and the financial aspects of a show?  It had become common practice for soaps to integrate advertising within a storyline to often-awkward results.  It isn't always the best use of advertisers' dollars because the fans can see right through the marketing ploys.  It is disingenuous and unnatural to the storyline.  In case you haven't seen the now famous Cheerios scene written into the Days of Our Lives storyline, check out this clip from YouTube.

Adding insult to injury to this whole fiasco is the fact that Brian Frons and his team are looking to add more reality programming to the daytime lineup.  It is well known fact that there is money in reality television and it is a lot cheaper to produce.  "Beach Dreamer" told me that "For the most part, we're adults watching and aren't easily "trained" as Mr. Frons thinks. Adding more shows of this nature to an already saturated market is beyond lunacy, it's the recipe for disaster and it couldn't happen to a more deserving group of people."  There are many calls to boycott ABC on Twitter and the fans are rallying to get Mr. Frons fired with an online petition currently boasting over 7700 signatures.  Even the sponsors of daytime television have been contacted and urged to pull their ads from ABC.  Well, their cries were heard loud and clear to at least one advertiser as Brian Kirkendall, VP of Marketing at Hoover, took to the company's Facebook fan page to announce:
"…we will discontinue our advertising with ABC this Friday, 4/22. We're making every attempt to pull our spots from these programs sooner.
 
Because we feel that's not enough, we also want to help get your voice heard with ABC. So, we've set up a special email address, SaveTheSoaps@Hoover.com, to help pull together the mass emotional outpouring of support for our beloved ABC soaps and get it to our contacts at ABC. Please, send your emails to us at SaveTheSoaps@Hoover.com, and we'll get every, single last one of them to ABC."

Now, this is where Frons underestimated the value of the daytime viewer.  I can assure you that many 'AMC' and 'OLTL' fans are not watching one second of ABC. They are too busy writing ABC advertisers, getting the message out online, and executing a simple marketing strategy:  word of mouth.  It might have been something the ABC Daytime team overlooked when planning their soap opera strategies for 2011.  If the fans get it, the media gets it, and the advertisers get it, why doesn't ABC?  It may simply be a business decision on the network's end, but it sure is an emotional one on the viewers' end.  Like PopNewsGirl stated on Twitter, "I am not a soap fan. But I know better than to mess with one."  Did you hear that, ABC?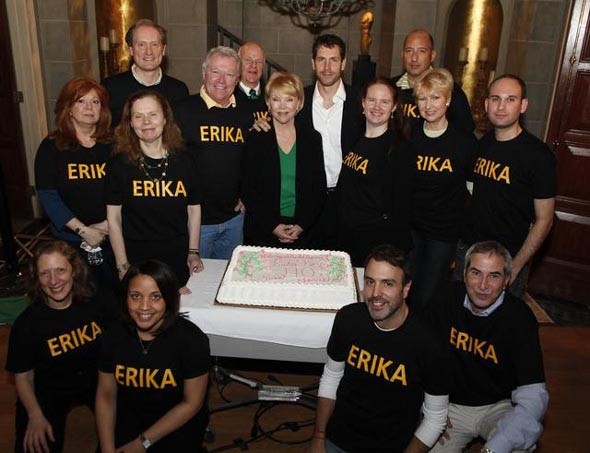 Six-time Emmy-winner Erika Slezak from ABC's "One Life to Live" is surprised by the cast and crew with a celebration to mark her 40th anniversary playing Victoria Lord. Ms. Slezak first appeared on "One Life to Live" on March 17, 1971. Photographer: Heidi Gutman, American Broadcasting Companies, Inc.