Don't Expect Ricky Gervais To Soften Up His Jokes At Tonight's Golden Globe Awards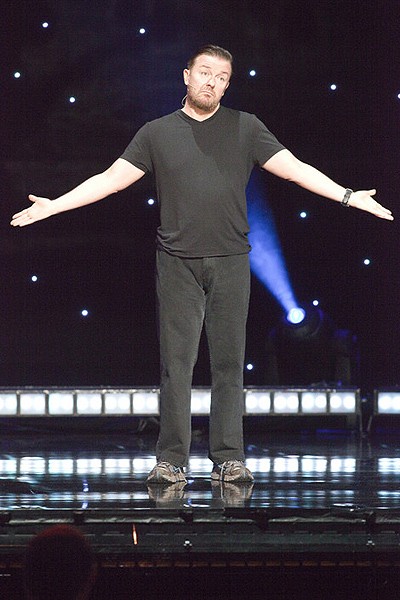 Last year comedian Ricky Gervais came under fire for several of the jokes he told while hosting the Golden Globes - poking fun at the likes of Charlie Sheen, Angelina Jolie and Robert Downey Jr.. Some of his jabs were considered too harsh and it was reported that Gervais wouldn't host again; however just weeks after the show he was asked back by producers for a third time hosting the ceremony; although it wasn't confirmed that he would be back again until November 17th.

Despite jokes that some in the industry consider mean-spirited, Gervais stands by his words and says that those in the public eye need to lighten up.

He tells Esquire magazine, "I stand by everything. You shouldn't apologize for anything you meant to do. You can apologize for things you do when you're 15, but not when you're 50.

"People confuse the subject of the joke with the target of the joke, and they're very rarely the same. Let's get this in perspective: They're [actors & actresses] the wealthiest, most privileged people in the world. Offense is taken, not given. It's your choice."

Some of last year's zingers included:

-"There were a lot of big films that didn't get nominated this year – nothing for Sex and the City 2. I was sure the Golden Globe for special effects would go to the team that airbrushed that poster."

="It's going to be a night of partying and heavy drinking. Or, as Charlie Sheen calls it, breakfast."

-"[M]any of you in this room probably know [Robert Downey Jr.] from such facilities as the Betty Ford Clinic and Los Angeles County Jail."

And don't expect Ricky to pull any punches again this year. He explains one of the biggest reasons he's even doing it in the first place - freedom of creativity.

"They [the Oscars] wouldn't let me do it [host] my way. I don't think they could afford to. The first time the Globes asked me, I said, 'Can I say what I want?' They said, 'Yeah.' Second time, I said same again. They went, 'Yeah.' The Oscars would never. I just don't think they'd ever trust me. Nor should they. If I was them, I'd say, 'Well, don't hire Gervais. You're asking for it.'"

"I'm not a wolf in sheep's clothing. I'm a wolf in wolf's clothing."

Check out the rest of Ricky's very interesting interview with Esquire here.