Don't Expect A Miranda Lambert Christmas Album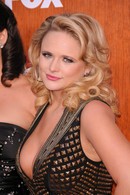 Country star Miranda Lambert gets sick of hearing seasonal tunes during the winter holidays - because her husband Blake Shelton insists on playing Christmas classics throughout the year.

The singer admits Shelton's penchant to play the festive tracks all the time means she no longer gets excited by the sound of Jingle Bells.

She tells People magazine, "I get tired of Christmas songs - my husband listens to them all year!"