Don't Cry For 'Glee'... When It's This Good!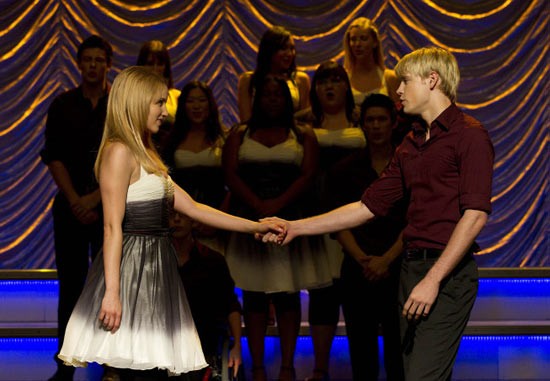 For sectionals this year, Will is determined to prove how self-aware 'Glee' can be. Critics concerned about how overexposed Lea Michele is and how underutilized Heather Morris is, Will has got your back. Folks, who would be happy listening to Lea Michele sing the phone book every week, Santana's going to taunt you with "Yentl" references and torture Rachel with revelations on the true status of Finn's virginity. (For those who missed it, Santana took it in the middle of a wonderfully entertaining tribute to Madonna.)
The news doesn't exactly help boost morale for the glee club, although it is perhaps the only thing that would distract Rachel from her crusade to sing a solo at Sectionals once again. Alas, the reprieve is brief and she's duck-taped her mouth shut in silent protest by the next rehearsal.
Meanwhile, over in the Land of Red-Trim Navy Blazers, another diva is having a bad day. Kurt disrupts the harmonious snootiness in the room by suggesting the sure to be Schuester-approved Duran Duran song, "Rio" for the Warblers' own sectionals set list. Instead he's met with a chorus of NO's. But…
"Don't Cry For Me, Argentina" – Our divas unite for the "Evita" showpiece and sing about their inability to stay out of the spotlight. For those of us who LOVE this kind of thing (See: 'Don't Rain on My Parade' and 'Defying Gravity'), this one was for us – balcony and all. Thank you, Ryan Murphy!!!
So… Sectionals
"The Living Years" - After newly minted BFF's Rachel and Kurt bond backstage, the  Hipsters (aka The Old Folks Glee Club) takes the stage to sing this depressing anthem…  How did they qualify for a high school competition again? Trying to remember how they justified this out-of-place performance and finding Will's annoyance at Rachel and Finn's awkwardness mildly amusing was my key take-away here.
"Hey, Soul Sister" – The Warblers, on the other hand, felt like some good competition for the McKinley kids. Like "Teenage Dream," it was a great take on a recent pop hit. It felt weird seeing Kurt blending in with all the other acappella voices, but that's just being picky. Well done, Warblers.
And Finally….
All those peripheral players getting their spotlight on this year are bickering away backstage right up until the last second.  Mr. Schue makes a half-hearted effort to break through the accusations of cheating, missing magic combs, post-pardem/traumatic stress syndrome, a snarking, snacking AV chick, and the Rachel vs Finn fiasco to remind the kids that nobody puts baby in the corner...
"(I've Had) The Time Of My Life" – Love Quinn and Sam! Love that Jennifer Grey just won "Dancing with the Stars" and I'm totally primed for another dose of "Dirty Dancing" nostalgia! Love that we go right into a Santana solo! / "Valerie" - Okay… The Amy Winehouse song she sings is a strange choice and it's a little odd that this was where Mike and Brittany had their big dance number but maybe that was by design since…
It's a Tie!
Surely the "Dirty Dancing" lift would have clinched it for New Directions, so we have to assume larger story arcs prevailed and conspired to deprive us of this particular homage… maybe they assumed Jennifer Grey would have already done it. Maybe I need to let it go and just accept that New Directions and the Warblers both won and move on to bigger storylines and a pair of MAJOR plot twists.
First, Emma is MARRIED?!? Mrs. Pillsbury-Stamos?!? Hearing her tell it to Will just bums me out. Our well-meaning Mr. Schue is kind of at his best when he's got her as his head cheerleader, but the disappointment goes deeper and his attempt to congratulate her hit all the right notes as played by Matthew Morrison. (Ignore the pun…)
And then we find out that Rachel cheated on Finn with Puck?!? Girl, that is Cold! And yet, it's the kind of dramatic, self-destructive behavior that Rachel has a tendency to get caught up in when she thinks she's been wronged. Naturally, Finn doesn't just let it slide and right after a sweet "I Love You" moment, they're finished and both looking so sad. Rachel goes so far as to pass on a solo.
"Dog Days Are Over" – The catchy Florence and the Machine hit is a great finale for another great Sectionals. Mercedes and Tina are a pairing we don't usually get to see and giving them this number really makes it feel like everyone got a chance to shine in this episode. Plus, we get the rest of glee club on-stage with them and cutaways that show a hint of regret in Emma's newly-married face  and Mr. Schue looking adorable. Still, Rachel and Finn's breakup steals the show with the cutaway to the cat calendar in Rachel's locker. So absurd. So heartbreaking. So funny. All at once. Everything that's great about 'Glee' summed up right there. 
So what did you think? Did you love Sectionals this year? Are Sam and Quinn too cute for words? Break the ties – who was better – New Directions or the Warblers? Which was more surprising – the breakup or the marriage? Let us know!