Don't Be Fooled, 'The Lego Movie' Is 'Awesome!'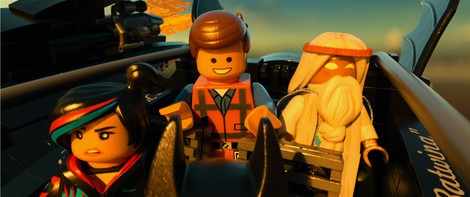 A film based on Lego toys may seem like a questionable choice for entertainment. But luckily Warner Brothers knows better. They brought in the writer-director duo of Phil Lord and Christopher Miller, who specialize in taking potential disasters and turning them into "awesome" delights. Remember "Cloudy With a Chance of Meatballs" and "21 Jump Street." Both films seem crazy on paper, but on the big screen they are box office gold.
Not only is "The Lego Movie" cleverly written with plenty of gags like the "Kragle" and using Jonah Hill to voice the annoying Green Lantern, but also it is visually stimulating and packs an emotional, yes emotional, punch for all ages (sorry we can't give the heart of the film away, but go ahead trust us that this film does have an emotional bite). Visually it is so well made that it's of the few movies worth seeing in 3D. The directors were very specific when making this movie that they wanted the audience to enter the world of Legos and to fully embrace it. Everything in the Lego world prescribes to the physical frustrations of interlocking blocks not to mention that everything is made of Legos, whether it is smoke from a car crash or water in the ocean or a cop with a split personality. The movie is genius in taking the physical constraints of how a Lego is made and turning into clever gags and a social commentary. In image quality, the movie is as good as and reminiscent of the Wachowski's 2008's Speed Racer.
So the story is that Emmet (Chris Pratt) is just an average construction worker who follows the daily instructions, until he meets the rebellious Wyldstyle (Elizabeth Banks). She quickly pegs him as "The One" and shows him the Lego world he's never seen—that evil side with takeover guy Lord Business (Will Ferrell). So how does he avert an overlord killing off the world with the Kragle—by using all available materials to build a team consisting of a cop (Liam Neeson), Batman (Will Arnett) Superman (Channing Tatum) an old man (Morgan Freeman).
This movie really hits the mark by relating principles about teamwork, imagination and courage. So some may say it is really "awesome," but there is a downside because that "awesome" theme song gets stuck in your head.