Donald Trump Threatens To Sue Miss Pennsylvania Over Claims That Miss USA Pageant Was Fixed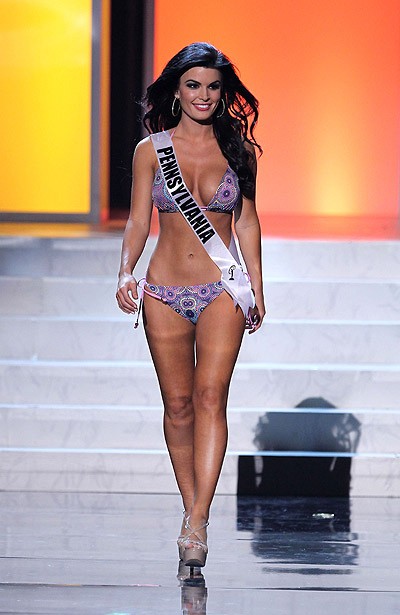 Donald Trump is threatening to sue a Miss Universe contestant who accused him of rigging the Miss USA pageant held this past Sunday night.

27-year-old Miss Pennsylvania Sheena Monnin resigned her title and quit the Miss Universe Organization on Tuesday, making accusations that the organization fixed the results of this year's Miss USA contest.

"Effective immediately I have voluntarily, completely, and utterly removed myself from the Miss Universe Organization," Monnin wrote on her Facebook page. "In good conscience I can no longer be affiliated in any way with an organization I consider to be fraudulent, lacking in morals, inconsistent, and in many ways trashy."

Monnin claims that a fellow contestant in the pageant shared with her that she saw a list of the final five contestants before they were announced, leading to the allegations that the Miss USA pageant is fixed ahead of time.

The former Miss Pennsylvania also made it clear to the organization that she wasn't happy with its recent decision to allow transgender women to enter the competition.

But now Trump has fired back at Monnin, telling Good Morning America on Wednesday, "She made a very false charge and she knows it was a false charge. I think that, frankly, she should apologize but we will be bringing a lawsuit against her.

"It's absolutely ridiculous. She lost and if you look at her compared to the people who were in the top 15, you would understand why she's not in the top 15. It's a very, very sad situation."

And now Trump has reportedly softened up a little since his angry call in to GMA and is offering Monnin an chance to come clean without consequence.

Michael D. Cohen, one of the Donald's reps, tells E! Online, "Donald Trump believes in giving everyone a second chance, including Ms. Sheena Monnin.

"Accordingly, if Ms. Monnin in a writing received by Mr. Trump within the next 24 hours apologizes and withdraws her utterly baseless claim that the Miss USA pageant results were predetermined, then and only then will Mr. Trump and the Miss USA Organization not proceed with litigation against Ms. Monnin seeking massive damages for her defamatory and offensive remarks."