Donald Trump Threatens To Sue Bill Maher If He Doesn't Hold Up His End Of $5 Million Offer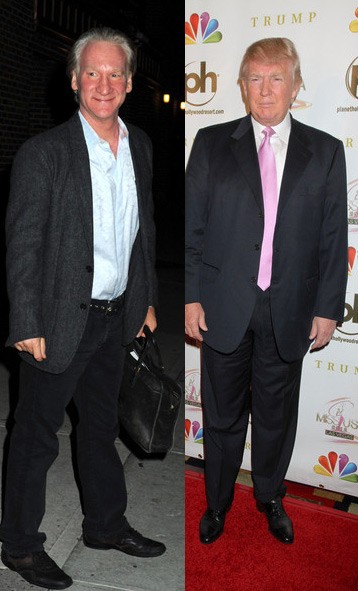 Comedian Bill Maher made an appearance on The Tonight Show with Jay Leno Monday night and made some comments that could put him on the hook for $5 million.

The comedian told Leno that he just returned from Hawaii after ringing in the New Year with a couple of stand-up performances.

"I'm like the Don Ho of Hawaii," he joked; after which Leno reminded him that, actually, Don Ho is 'the Don Ho of Hawaii.'

Maher then joked that he "originally went there to look for [President Barack] Obama's birth certificate" but ended up "getting stoned with Woody Harrelson."

Maher had trouble winning over most of Leno's crowd and most of his jokes fell flat, most notable a religion-bashing anti-Bible joke.

Leno then brought up Donald Trump's $5 million offer to Obama, in which he asked the president to prove he's a U.S. citizen in exchange for Trump donating $5 million to charities of his choice.

Maher mocked the offer and said that he would donate $5 million to the 'Hair Club for Men' or the 'Institute for Incorrigible Douchebaggery' if Trump produced evidence that he was not the "spawn of his mother having sex with an orangutan." (watch it here)

Trump has now taken up Maher on that offer and already sent him proof that his father is not, in fact, an orangutan.

"The other night on Jay Leno's show, he made an absolute offer, I made an absolute acceptance," Trump said to TV show Extra Wednesday night. "I sent him documentation and he owes me $5 million, which I'm going to give to charity. Let's see what happens and if he doesn't pay the money, we will probably sue him."

"Yeah, I think I'd sue him. He made and offer, we accepted the offer. I'd probably sue him," he said.

Now what may have started as a joke could end up costing Maher a pretty penny.

"New rule for @billmaher: check the law before you make a public absolute offer," Trump tweeted on Thursday.