Donald Trump Takes Aim At Sacha Baron Cohen Over Oscars Prank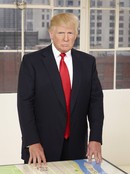 Property tycoon-turned-reality TV star Donald Trump has blasted funnyman Sacha Baron Cohen for the ash-spilling prank he pulled at the Oscars on Sunday.

The businessman was appalled when Cohen, in character as his new film character from The Dictator, tipped what he claimed were late North Korean leader Kim Jong-Il's remains all over red carpet TV reporter Ryan Seacrest - and now he's speaking out in defense of the American Idol host, who had to change after he was left covered with powder.

Calling in to TV news show Access Hollywood Live on Wednesday, Trump said, "I didn't like it. I thought it was terrible... Ryan Seacrest is a great guy and he didn't deserve that and frankly his security people should have pummelled this guy to the ground.

"He (Seacrest) was accosted by this man... The security guard was pathetic... If he would have done to me what he did to Ryan... They should have really taken him down... and taught him a lesson."