Donald Driver Wins The Most Competitive Season Of 'Dancing With The Stars'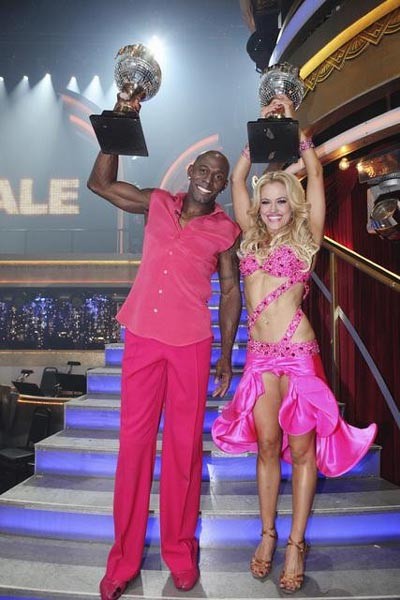 Donald Driver has done it again! The Super Bowl champion who helped his team win the title in 2011 beat out amazing dancers like Katherine Jenkins and William Levy in what has been deemed the most competitive season of Dancing With The Stars.
In a night where everybody danced with nothing but perfection, the NFL star and his pro partner Peta Murgatroyd dazzled with another spectacular cha-cha-cha. "Amazing!" said the "Mirror Ball" winner as he was awarded the trophy.

Other hightlights of the night included all twelve of the stars being brought back for another dance. There was also an incredible performance by award winning singer Kelly Clarkson followed by the beautiful "Empress of Soul," Gladys Knight, taking everybody home with "The Way We Were."

As for the finalists, they ruled with flawless routines each landing perfect scores. William and Cheryl heated up the ballroom floor with one last salsa. Katherine and Mark showed off their fancy footwork with the Jive. But the champ was the one to leave the biggest impression in a tight battle that any of the stars could have won.
The trophy winner accredits his win to the country freestyle routine performed on Monday evening. Which I have to agree, Donald's freestyle dance was out of this world and definitely took him over the top. What do you think?
Here is the recap of the final dances down below. Let me know your thoughts about last night's show down below.

1. William Levy (actor) & Cheryl Burke
Dance: Salsa
Song: Tito Puente-"Juventud de Presente"
Scores: 10, 10, 10
Judges: Carrie Ann said you have true star quality. Salsa King. Bruno said when it comes down to hot, saucy, spicy salsa hips don't lie. Nobody does it better than William. Len said William if salsa and rhythm were in the Olympics you would win a gold metal.

2. Katherine Jenkins (Singer) & Mark Ballas
Dance: Jive
Song: Bobby Darin-"Splish Splash"
Scores: 10, 10, 10
Judges: Bruno said Katherine the blond bombshell. The girl that has it all. A truly, truly stunning dancer. Carrie Ann said you are such a brilliant artist. You two set the bar this season. Len said judging is only an opinion. We have three fantastic finalist, but I tell you Katherine you are the complete package.

3. Donald Driver (NFL Football Star) & Peta Murgatroyd
Dance: Cha-Cha-Cha
Song: Madcon- "Beggin'"
Scores: 10, 10, 10
Judges: Bruno said another massive hit for Donald. You are so smart. You give performances that are always so surprising. Carrie Ann said you are such a fierce competitor. I can see your love for the show and to win, and I think you are the one to beat. Len said we've had some great footballers on the show, but you are the best.