Don Rickles To Be Honored At 2012 Comedy Awards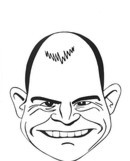 Funnyman Don Rickles will be the toast of the 2012 Comedy Awards later this month after landing one of the evening's most special honors.

Rickles, who made a number of guest appearances on Johnny Carson's The Tonight Show, will be handed the TV legend's namesake award for Comedic Excellence on April 28th.

An overjoyed Rickles tells BroadwayWorld.com, "I've been blessed with many highlights in my career but guesting with Johnny Carson on The Tonight Show was particularly memorable for me as they were more than just appearances; they became events. Carson was Mr. Magic.

"He always made me feel that my talent was something special. To receive an award bearing Johnny's name means everything to me as he will go down in history as the greatest in his field."

The 85 year old, who voiced Mr. Potato Head in the Toy Story movies, will become only the second comedic icon to pick up the trophy - TV host David Letterman scooped up the accolade last year.