Don Pardo's Most Memorable SNL Moments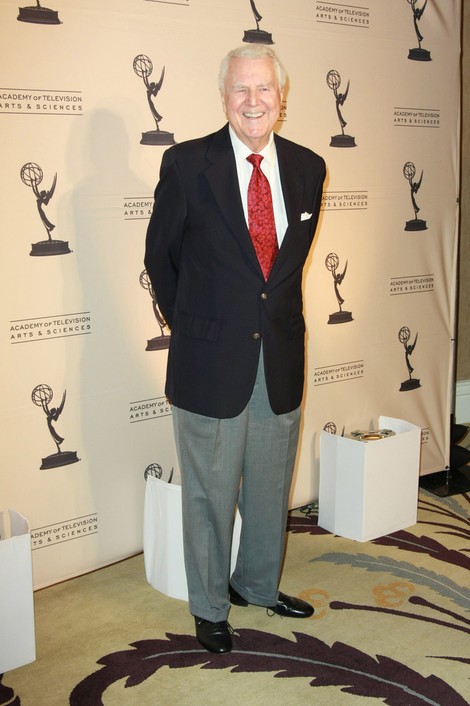 Longtime voice of NBC Don Pardo passed away this week at the age of 96.  During his time at the Peacock network, Pardo was most famous, of course, as the announcer of "Saturday Night Live."  While his 40 years at "SNL" almost exclusively consisted of bellowing the names of every cast member and guest who strode the halls of Studio 8H, he occasionally made time to appear in sketches.  Here are some classic moments when his contributions to the show went beyond the opening credits:
1. Season 1, Episode 1 Opening Montage (10/11/75)
This list actually will start with a moment from the opening credits.  In the premiere episode, the cast was listed all at once on screen, instead of the now-standard one-by-one format with accompanying photo or video.  Don was supposed to refer to them collectively by the self-appointed nickname "Not Ready For Prime Time Players," but nerves apparently got the best of him as he blurted out "the Not For Ready Prime Time Players."  Far from ruining a perfect moment, though, this gaffe was perfectly consistent with the seat-of-the-pants style of the show's original years that captured the dangers of live television. 
2. Jeopardy! 1999 (10/23/76)
Don Pardo was the announcer of the original, pre-Alex Trebeck "Jeopardy!" that was hosted by Art Fleming.  He reprised this role for SNL's futuristic version of the answers-and-questions game show, hosted by Steve Martin (in his first hosting appearance) as Art F-114.  While announcing the contestants, Don got the chance to use such "futuristic" terminology as "shredding machine operator," "lobotomist for the Ministry of Love," and the fact that one of the players "enjoys sex." 
3. Get to Know Me (5/20/89)
Jon Lovitz was perhaps the most rascally cast member in SNL history.  "Get to Know Me"  is a faux-infomercial in which he, with Sports Illustrated Swimsuit cover girl Paulina Porizkova by his side, declares that the secret to success is getting to know him, Jon Lovitz!  Thus, it was basically the apotheosis of his comedic persona.  Don Pardo is the first satisfied customer to appear, noting that before he knew Jon Lovitz, he was "stuck in a room reading voiceovers," but now, he's allowed on TV!