Don Cheadle Slams NBC Over George Zimmerman 911 Call Controversy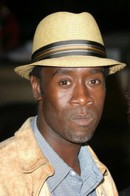 Actor Don Cheadle has taken aim at NBC chiefs after the network aired an edited version of the 911 call in the Trayvon Martin case, insisting the news piece was "irresponsible" and "counter to the furtherance of justice."

Neighborhood Watch volunteer George Zimmerman shot and killed black Florida teen Martin in February after mistaking the unarmed teenager for a person of suspicion.

His 911 call in relation to the incident emerged last week and NBC's Today show aired an edited version, suggesting Zimmerman told the emergency dispatcher that Martin was black without any prompt - when in fact the handler asked him whether the man was "black, white or Hispanic."

NBC bosses apologized, stating that an investigation turned up "an error made in the production process that we deeply regret" - but Cheadle wants somebody to be held responsible for the mistake.

In a series of posts on his Twitter.com page, he writes, "Dear NBC News, Huh??? It was 'an error made in the production process that we deeply regret.' Really? 'Error?' Anybody out there know anything about editing? Unless the AVID (technology) malfunctioned, somebody was faking the funk. Why?, is the question. What was furthered beyond NBC news ratings?

"Dangerous subject matter to be f**king with. Irresponsible, incendiary and completely counter to the furtherance of justice for either side. Edited, produced, and green lit to air. The greatest responsibility lies with those listed but in the inverse order. Demote somebody."

He has also accused the network of airing the piece just to increase viewer numbers, adding, "An obvious and irresponsible ratings grab, willfully fanning the flames or too ignorant to stay in their job. I pray this kind of bulls**t doesn't effect (sic) the investigation or sway the facts in any way. There needs to be a proper outcome based on fact."

"Truth doesn't need 'help.' If Zimmerman is proven guilty of a crime he should be charged accordingly and prosecuted to the full extent."