Don Cheadle Goes Green For Hilarious 'Captain Planet' Spoof (Video)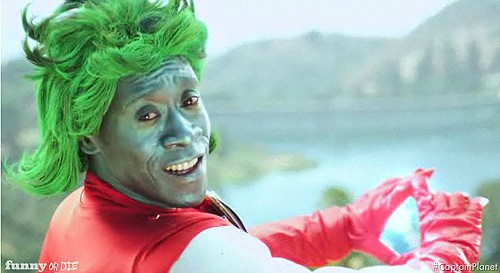 Don Cheadle is saving the planet - one tree at a time. Or should we say, one human tree at a time?

Cheadle, who isn't cast yet, but still might appear in next summer's sure-to-be blockbuster superhero film The Avengers (because of an option in his Iron Man 2 contract), was honored this past July by the Friars Club in New York for his performance alongside Brendan Gleeson in The Guard. The two were honored with a 'Best New Buddy Comedy Duo' Award at the event for their performances in the film, about an Irish cop who reluctantly teams with an uptight FBI agent to take down an international drug trafficking ring.

And now Cheadle is sticking with comedy in a great new Funny or Die spoof on the classic kids show Captain Planet and the Planeteers, about an environmentally friendly super hero who, with the help of a few like-minded teenagers, save the Earth from ecologically threatening events.

Unfortunately, Cheadle's Captain Planet isn't exactly as good for the human race as he is for the planet.

The video also stars Efren Ramirez, Brenda Song, Gillian Jacobs and William Moseley.

Check out the hilarious video below (Warning: explicit language)...