Don Cheadle And Brendan Gleeson Honored By Friars Club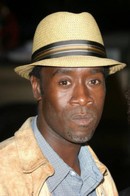 Don Cheadle and Brendan Gleeson were the toast of New York's comedy circuit on Monday after they were inducted into the legendary Friars Club.

The pair was presented with the Best New Buddy Comedy Duo Award for their performances in new black comedy The Guard.

They were also given a lifetime membership to the private club, which boasts Barry Manilow, Frank Sinatra, Billy Crystal and Whoopi Goldberg in its ranks.

Veteran funnyman Jerry Lewis, abbot of the Friars Club, congratulated the pair on their achievements in a message read aloud at the bash.

Referring to his own partnership with Dean Martin, Lewis joked, "I know a thing or two about buddy movies... Only one can be the pretty one, only one can be the smart one, and only one can get the girl. But when it's done right, both get to be the funny one, which is why Don and Brendan have emerged as the Best New Comedy Duo... and well-deserved.

"Congratulations from one half of a great buddy team to the new buddy team!"