Dolly Parton 'Thrilled' To Finally Perform At Glastonbury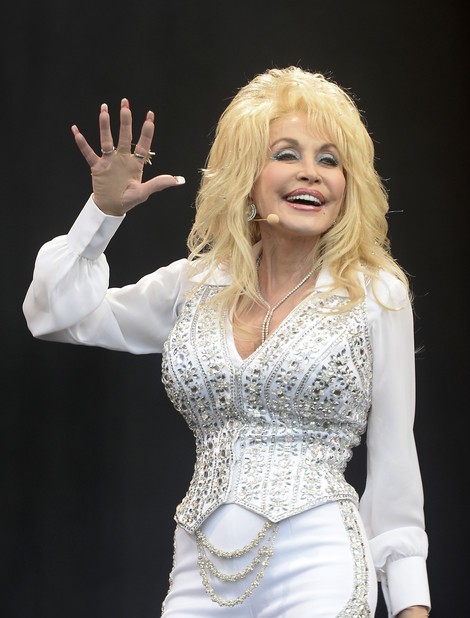 Country star Dolly Parton was ecstatic to perform at the famous Glastonbury Festival in England over the weekend, playing in front of an audience of 100,000 concertgoers. Fans shouted her name as she walked onto the stage on Sunday to perform for her highly anticipated afternoon concert.
She donned a sequined white ensemble and belted out hits including "Jolene," "9 to 5," "Coat of Many Colors," "I Will Always Love You," "Islands in the Stream," and a medley of songs including "Old Flames Can't Hold a Candle to You" and "Real Love."
At one point, Bon Jovi guitarist Richie Sambora joined her on stage, and they performed "Lay Your Hands On Me" together. Parton also sang a strange rendition of late British comedian Benny Hill's TV show theme tune that was inspired by the festival's infamous mud pits.
Parton interacted with the crowd, telling them stories from her music career and gushing about how honored she felt to finally perform at Glastonbury. "It is such an honor and such a thrill to be here at Glastonbury Festival. I've been waiting a lifetime for this... This is a real thrill and a real treat," she explained.
Festival founder Michael Eavis presented the singer with a special plaque, honoring her for selling more than 100 million albums worldwide.
"I've been so busy making records for the past several decades, I didn't realize I had racked up so many sales. What a great honor to know that I have so many fans that have supported me through the years... I feel very honored and proud," she told concertgoers.
Parton, 68, recently told Uncut magazine that she felt "blessed" to have such a successful career but admitted she sometimes struggles to keep up with her demanding schedule.
"It's wearing. Sometimes you just physically and emotionally can't hardly keep up. You can't say no exactly. It is how it is and even when you're sick you can't take the time to be sick, you have to plan around that. You have to maneuver," she said.