Dolly Parton Struggled To Perform In Australia Because Of Bats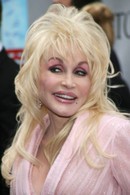 Dolly Parton struggled to get through outdoor performances during a recent Australian tour - because her fair complexion constantly attracted unwanted attention from bats and bugs.

The icon wrapped up her world tour Down Under last month and although the Jolene singer enjoyed meeting the country's native kangaroos and koalas, there were a few creatures she never wants to see again.

The "Coat of Many Colors" singer says, "It was summer there actually and they have a lot of creatures there. It's amazing. Seriously, we worked one outside show at a vineyard, and I'm so fair, I'm so white, and usually I like (to wear) light stage clothes, and I was like a beacon to every freakin' single thing. All I know is that the bugs were bigger than bats and the bats were bigger than eagles.

"It was like, 'Oh my lord!' They were just soaring around and (there were) just bugs all over. I was just stomping all over the floor, they thought I was dancing, but I was trying to kill bugs."

And she even swallowed one concert freeloader: "I sucked a bug down my throat and I kept saying, 'I stay on a high-protein diet but this is ridiculous because this isn't the kind of protein I want!'

"I had to stop a couple of times and get a cup of water. Really, they were scary... but the crowds were great, so they made it (worthwhile)."