Dog The Bounty Hunter Looking For MMA Fighter Who Nearly Beat Porn Star Girlfriend To Death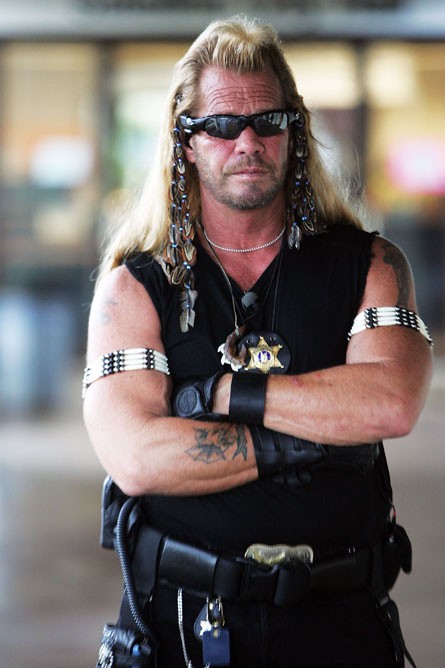 UPDATE: War Machine was captured Friday in a hotel outside Los Angeles, according to TMZ, and the MMA fighter went without a fight.
Dog the Bounty Hunter wasn't a part of the arrest, but he did play a big part in the investigation.
---
Duane "Dog the Bounty Hunter" Chapman has joined the hunt for an MMA fighter who beat his porn star girlfriend within inches of her life over the weekend.

John Koppenhaver, who goes by the name "War Machine," is wanted by police in Las Vegas, Nevada, for beating his ex-girlfriend, adult film star Christy Mack, sending her to the hospital with 18 broken bones in her face, her nose broken in two places, a broken rib, several missing and broken teeth and a "severly ruptured liver" from a kick to her side. She also says she can't see out her left eye.

Mack and a male friend were at her home when Koppenhaver, who she says broke up with her in May and moved from Vegas to San Diego, Calif., arrived "unannounced" at 2am on Friday morning.

The actress says he didn't say a word and just began beating her friend, who he threw out of the house before forcing her to take off her clothes and shower while he watched. Then he "dragged me out and beat my face" she said in a statement.

He also cut off a lot of her hair "with a dull knife" before attempting to rape her, but he "could not get hard."

Mack was taken to the hospital by a neighbor after escaping her home when Koppenhaver, who she believed was going to the kitchen to get a sharp knife to kill her, left the room.

Seven arrest warrants were issued for Koppenhaver's arrest on Monday, which is when Dog the Bounty Hunter began the physical part of the manhunt. He had already begun his investigation days before the warrants were issued. At 2pm on Tuesday, Dog tweeted a message to Koppenhaver, giving him the opportunity to turn himself in before the hunt began.

"War Machine YOU HAVE 6 HOURS LEFT !!SEE YOU SOON !!" he wrote.

War Machine, who is believed to be in San Diego, has a number of prior arrests and convictions on his record for violent behavior, and he's served nearly two years in prison for two separate beatings he administered.

Mack even said in her statement that he's beaten her "many times before, but never this badly."

Dog was interviewed by website MMA Mania prior to beginning his manhunt, and he explained that regardless of what Mack does for her profession, he's obligated to help.

"Anytime any kind of girl is beaten like this by any kind of man -- and he's been on the run -- he enters into not an MMA ring, but 'Dog's Ring,'" Chapman says. "Any fugitive in America knows that if you go on the run and you do something that horrendous to be on the run, Dog Chapman and crew are coming after you."

"I try to be a Christian, or I at least claim to be, and there's a story about Jesus and a young lady named Mary Magdalene, and I think she might have done the same thing for a living," he adds. "So, I don't care what she does for a living, what her preferences are or anything like that. This guy did a terrible, horrendous thing to a woman. And there is so many people who I can't believe on social media who thought she deserves this. And I was thinking, wait a minute, these kids -- these younger guys -- need to realize and be taught that you don't hit a woman."

See photos of Christie's injuries on the next page (warning: they're pretty graphic).