Does Justin Bieber's 'Hot, Ready, Legal' Rolling Stone Cover Go Too Far?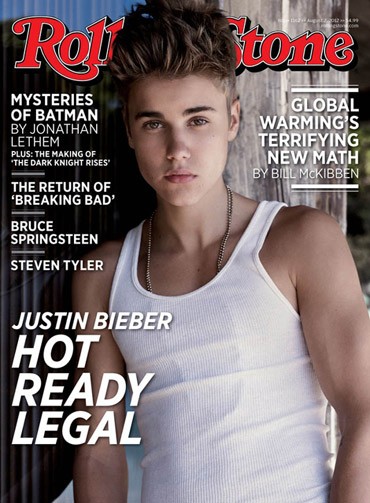 Justin Bieber, wearing a white tank top, is featured on the latest issue of Rolling Stone with the title "Justin Bieber: Hot, Ready, Legal." Some people have a problem with this.
An UPROXX contributor writes, "If I wanted magazines with covers like this in my house I'd subscribe to Tiger Beat. Does the name above my address read 'Pedobear?'" Admittedly, the cover does have an unsettling effect when you read into it.
Before you claim everyone would be outraged if a young actress had the same cover, you're too late. In 2004 the same words (minus the Justin Bieber) were printed on a cover with Lindsay Lohan featured, right after her Mean Girls success and before her meteoric Hollywood decline.
In fact, Lindsay's decline started by racking up traffic violations - Bieber's well on his way!
His interview in the magazine is chock-full of attempts by Bieber to sell his new image of a mature artist. "I feel like I carry myself in a more manly way, I don't carry myself as a boy."
How does he prove his new maturity? He hits golf balls at paparazzi while they try to take pictures at him, then snobbishly tells an employee "we'll probably never play here again" due to the intrusion.
The issue hits newsstands Friday.