'Doctor Who's' Phil Ford on the US Debut of 'Wizards vs. Aliens'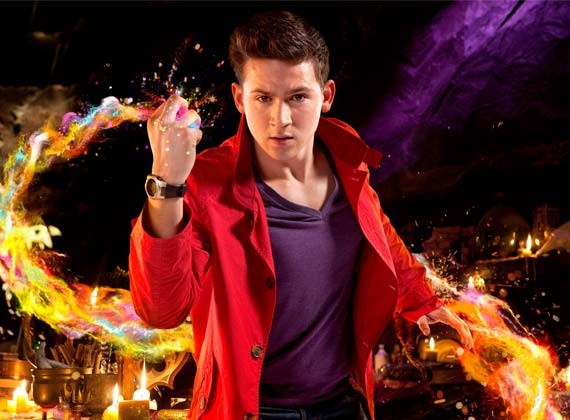 The Hub is bringing CBBC's fantasy series Wizards vs. Aliens to the American audience. Executive producer Phil Ford, who co-created the epic adventure with former Doctor Who boss Russell T. Davies, recently connected with BFTV to talk about what we can expect from the showdown between spellcasters and extraterrestrials - and more things awesomely sci-fi.
"The pitch is in the title!" Phil told us. "It's Harry Potter meets Mars Attacks, wands versus ray guns! Sixteen year old school kid Tom Clarke is a secret wizard - when he discovers that Earth is being raided by aliens that feed on the energy we call Magic he joins forces with geeky classmate Benny Sherwood to take them on - with the help of his wizard grandmother, a wonderful enchanted chamber, and a hobgoblin called Randal Moon.
"There are all sorts of things that makes Wizards vs. Aliens stand out for me - it's full of adventure, fun, wonder, and a whole lot of heart. But more than anything - when was the last time anyone saw wizards going up against aliens?
"This is also a show about friendship - when we first meet Tom and Benny they're not friends. Tom is the cool kid at school who's brilliant at football - and he isn't above using the odd spell to score a goal. Benny is the genius geek whose intelligence kind of - and sadly - makes him a bit of a loner. But the Nekross threat brings the two boys together because Tom can't defeat the Nekross with magic - it just makes them stronger! - so he's going to need science as well as magic, and that's where Benny comes in.
"So certainly the first half of the first season is about Tom and Benny becoming friends, and then we see what that friendship means to them both. Despite all the magic and aliens, I think that sense of friendship is something that grounds the show, that anyone watching it - whether they are six, 16 or 66 - can relate to."
"It's hard to point viewers at any particular episode and say "You've got to watch this!" because there's such a range of stories in the first series," he continued. "The second story, which is very much contained in one place, is very different to the series opener and is more than a little bit nuts. It's also the story in which we really see the boys' friendship come together - whilst pitched against the very real prospect that they're not going to make it out at the other end.
"The next story is a fabulous and slightly dark story about friendship and temptation, and the third story takes that idea of friendship and spins it on its head with a narrative in which we see that the Nekross aren't always the wizards' worst enemies.
"There are some big choices to be made for the wizards in the next story - which is very much an example of our belief on the show that you should never patronize your audience; kids are smart. So this is a really challenging story about moral choices, that I hope will make people stop and think - and hopefully recognise that Wizards vs. Aliens is a whole lot more than any other kids' TV show they ever watched.
I think one of the great things about this show, in terms of the stories, is that you never know quite what you're in for. There is no typical Wizards vs. Aliens story. And I think the series finale will show that - it's a real tear-jerker."