'Doctor Who' Takes Print By Storm With 12 Titles
Missing Doctor Who as we wait for the second part of series six? BBC Books has given you some solace as Who novels are arriving on bookstore shelves...twelve of them, in fact.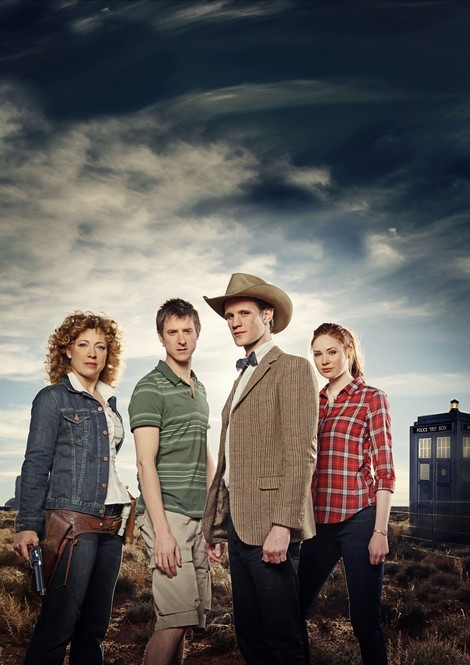 Six new print adventures featuring Matt Smith's Eleventh Doctor are headed your way. They are Touched By An Angel (written by Jonathan Morris), Paradise Lost (by George Mann), Borrowed Time (by Naomi Alderman), Hunter's Moon (by Paul Finch), Dead of Winter (by frequent Who/Torchwood novelist James Goss), and The Way Through The Woods (by Una McCormick). The new slate of adventures also features companions Amy Pond and Rory Williams.
The Who novels have always been reliably good reads, and this newest selection of adventures continues that trend. My favorite is Touched By An Angel, which brings back fan-favorite villains the Weeping Angels, hence the title. All of them, however, make a strong effort to capture the voices of the show's characters while weaving entertaining yarns of their own. These are not your average "let's dash off something generic with familiar names" TV tie-in novels.
Don't let their appearances fool you, either. While they are sometimes marketed as young adult novels depending on where you shop - I've seen them in the children's section in one bookstore and in science fiction in another - they're suitable for older fans as well; I've collected the entire series of them since the Ninth Doctor novels, and I've never felt as if I was reading a kid's book. What's great is that for some reason they're released three at a time, so you can move straight into the next novel, rather than the usual practice of waiting a few months for the next book in a series.
If those aren't enough for you, BBC Books is also reprinting six Classic Doctor Who novels, which feature throwback artwork and new introductions from notable writers. This (presumably first) batch involves the first three Doctors, as all of them are based on Who stories that were originally broadcast from 1963-1970.
They are David Whitaker's Doctor Who and the Daleks (featuring the First Doctor and with an introduction by Neil Gaiman) and Doctor Who and the Crusaders (featuring the First Doctor and introduced by Charlie Higson), Gerry Davis's Doctor Who and the Cybermen (featuring the Second Doctor and introduced by Gareth Roberts), Terrance Dicks' Doctor Who and the Abominable Snowman (featuring the Second Doctor and introduced by Stephen Baxter) and Doctor Who and the Auton Invasion (featuring the Third Doctor and introduced by Russell T. Davies), and Malcolm Hulke's Doctor Who and the Cave Monsters (featuring the Third Doctor and introduced by fellow author Dicks).
For those of you who became fans with the "new" Doctor Who, these novels are a great way to be introduced to the program's long and rich history, without having to go through the vast library of classic Who DVDs on the market. The introductions are a great "in" for new readers, and the novels are short enough not to be daunting, but long enough to be substantive reads.
The new titles are available now in the UK; some are available now in the US, with others to follow in the coming months. You can pick up any or all of the Doctor Who novels at Amazon.com or your local bookseller.