'Doctor Who': Steven Moffat on New Companion Jenna-Louise Coleman and Landing Neil Cross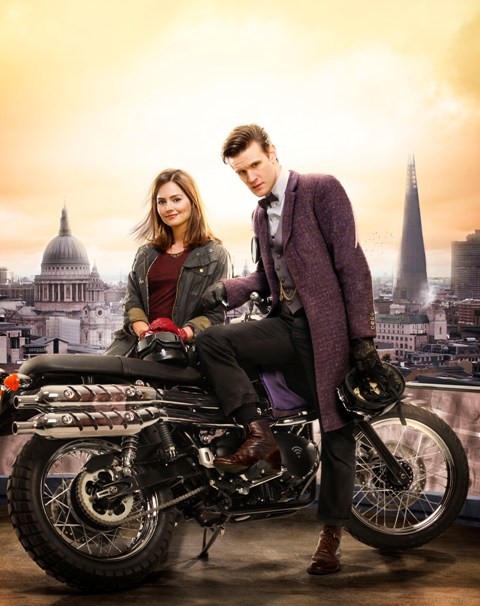 Whovians rejoice! It's time for more Doctor Who, and as fans eagerly await fresh adventures for the Eleventh Doctor and new companion Clara Oswald, BFTV stole a few minutes with series boss Steven Moffat to ask him about the ever-changing phenomenon that is Who - and how he got Luther creator Neil Cross to join the party.
This year is also the 50th anniversary of the franchise, and Moffat explained why he thinks the show has lasted for so long. "You can start watching Doctor Who at any point in its history. You don't have to catch up with the rest of it," he said. "It's a very simple myth. It's a man that can travel anywhere in time and space in a box bigger on the inside. That's as much format as we have. You can join it anytime, absolutely get a hold of it and, you know, dare I say I just think it's one of the great pieces of television entertainment that's ever been.
"That's why we latch onto it. it's terrific, it's simple to understand what it's about and it's hugely entertaining and every so often it completely reinvents itself to feel at home in its new era, which is really is the key ingredient. It always feels at home in the present day because it always adapts itself. We are, after all, on our eleventh leading man."
After saying goodbye to his first companions, Amy Pond and Rory Williams, the Eleventh Doctor (played by Matt Smith) is now partnered with Clara, an enigmatic figure whom he's already run into two other versions of. Asked what made Jenna-Louise Coleman the right woman for the job, Moffat said, "The most obvious answer to that is she's a terribly, terribly good actress. I know that sounds like a terribly dull thing to say, but it's the truth. You can be as beautiful and charming as you like, if you're not terrific at acting it will mean nothing on the screen. But she's a terrific actress.
"In addition, she looks great, she has great comic timing, [and] She looks like she belongs somehow next to Matt Smith," he added. "When the two stand together, it looks like an instant team."
"In a way Doctor Who is almost more in a way of the story of the companion," he continued. "It's her take on the Doctor, it's her adventure. It's the person to whom the story happens. The hero is somebody who saves the day and is extraordinary and you stand back and admire, and that's the Doctor. But for the storytelling the emotional connection has to happen to somebody. The Doctor himself has to happen to somebody.
"And so very often in Doctor Who, the companion is sort of the main character. [They're] the person whose story it is and [it's] how this experience changed them," Moffat said. "We never see how the Doctor began his journey, we will probably never see how he ends it, we'll probably never know why he embarked on it, but we know all those companions, who they were before they met the Doctor. We know why they ran away with him and we know roughly where they ended up. Those stories are complete. The Doctor is the enigma that enters their lives and changes them. The story is always about the person who changes the most, rather than necessarily about the person who effects those changes."
"What Jenna in particular brings," he explained, "She has a tremendous speed and wit and sort of an unimpressed quality. He works a bit harder with Clara. Clara is always just a little bit out of reach - not secretly devoted to him, but a little bit harder to impress. She's tough, she's fast and she's hard to impress, exactly the way the Doctor generally speaking doesn't like them, but of course he's absolutely devoted to Clara.
"That's very much driven by Jenna's particular style, which is a very, very fast, snappy style," he continued. "[She's] a very, very beautiful girl, but there's a real sense of toughness in that face, of someone who can be a real adversary if she wants to be."
Doctor Who has never been short of strong writers, but the show landed a huge 'get' when it secured Edgar Award winner Neil Cross, who's currently best known for writing the amazing Idris Elba-led crime series Luther (you can read BFTV's interview with Cross about Luther here). Cross's name is on two upcoming Who episodes, "The Rings of Ankhaten" and "Hide." How did that happen? "Neil Cross is a writer I knew of but I'd never met. He'd done Luther and books and a terrific, terrific writer. I'd actually read a script he'd written a few years ago. We'd never quite got it together," explained Moffat. "When Caroline Skinner came on to the show, Neil Cross is an old friend of hers and she's like 'I'm going to chase him and see if we can't work out the scheduling.'
"He's a huge Doctor Who fan, and even though he did not have the time to write an episode, he leapt at the chance to shove everything out of the way to do that," he continued. "Sort of what I'm looking for all the time - this sounds terribly snobbish and awful - but I'm looking for show runner level writers who'd give their right arm to write a Doctor Who story, that's what I'd like. And it's surprising how often we get that - how many of our writing team are show runners themselves. It was a gift to us, and Neil took to it like a duck to water, so it was brilliant."
Doctor Who resumes its seventh series tonight at 8 PM ET/PT on BBC America. You can also follow Steven on Twitter (@stevenmoffat).
(c)2013 Brittany Frederick. Appears at Starpulse with permission. All rights reserved. No reproduction permitted. Visit my official website and follow me on Twitter at @tvbrittanyf.