'Doctor Who: Complete Series 1-7 Limited Edition Gift Set' Reviewed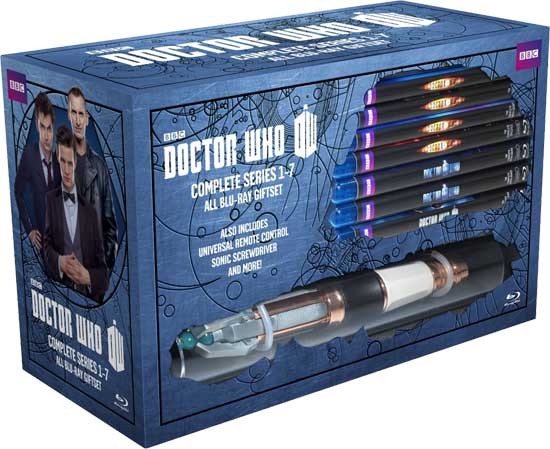 Just in time for the 2013 holiday shopping season, BBC Home Entertainment released Doctor Who: The Complete Series 1-7 Limited Edition Blu-Ray Gift Set yesterday. How fantastic is this set? It certainly qualifies as great, but whether or not you'll want to pay its hefty price depends on what kind of a Whovian you are.
The Complete Series 1-7 set boasts all the currently available seasons of the relaunched Doctor Who, several of which are being made available on Blu-Ray for the first time, and many of them improved from their original releases. In our opinion, it's the best this series has ever looked or sounded before - bright colors, great sound, even better effects. All of the content from the earlier copies of these seasons is intact, including the various specials. There's also a separate bonus disc containing three new-to-home-release specials for a total of 120 minutes of new material, a Sonic Screwdriver Universal Remote, an exclusive comic book, and some art cards. It all calculates out to a cost of $299.99, or $42.85 a season, which is fairly average for a TV show on Blu-Ray. It's not jaw-droppingly fantastic like some previous "complete series" sets we've reviewed (see: China Beach), but it's a solid collection.
And that's what makes it hard to determine if this one deserves a place on your shelf. If you're a relatively new Whovian, or somebody who's held off on converting your DVDs of the show to Blu-Ray, then this is absolutely worth a purchase; you're getting the complete series on Blu now, rather than waiting for the remaining single-season releases that are rumored to come in 2014. It's akin to what Universal Studios Home Entertainment did with Law & Order: The Complete Series - giving fans a chance to get the whole thing in one shot. The per-season price isn't much less than an off-the-shelf TV on Blu season (most go for somewhere between $40-50), so you're not saving a ton of money, but you're not overpaying, either.
If you've been collecting the Blu editions as you go along, though, is this worth an upgrade? We can't quite go that far, because this is exactly what we mean when we talk about "double-dipping." While there's no official word, we'd expect to see those seasons still missing on Blu-Ray come out within the next year or two. You likely won't be paying much more than the per-season price of this set, especially if you do your shopping at a place like Amazon, which usually offers Who sets for a fair amount off the MSRP. Plus, die-hard fans know this won't be a "complete" set for much longer, as we await the 50th anniversary special (already announced as a separate Blu-Ray) and the arrival of Peter Capaldi's Twelfth Doctor.
Not to mention that BBC Home Entertainment released a very similar set just last November - the Limited Edition Gift Set containing Seasons 1-6 on DVD. And before that, David Tennant's run as the Tenth Doctor was also released in a separate package as The David Tennant Years in 2011. That precedent makes us wonder if there's going to be a Complete Series 1-8 we'll be talking about next year, rendering this one quickly obsolete.
The new bonuses included on the extra disc aren't anything you can't do without, unless you're a die-hard fan who must have anything related to the Doctor Who universe. Two of the three features - "The Brit List's Ultimate Doctor Who List of Lists" and "The Best of the Christmas Specials" - are the talking-head commentary shows seen on BBC America, and are in our opinion not that interesting, except for guest host John Barrowman in the former (because Barrowman makes anything interesting). The last one is the full 90-minute presentation of "Doctor Who At The Proms" from 2010, which is entertaining, but if you're not interested in the music of Doctor Who, may not have a lot of rewatch value.
Of the included trinkets, the best one is the Sonic Screwdriver Universal Remote, which if you really need it, you can buy separately for about $100. The comic book and art cards aren't anything to write home about. Nor is the packaging: a simple cardboard box with a plastic front cover you have to pop open and then try to slide back in when you're done. It never quite wants to go back in the same way it came out. It does the job, but that's all it does.
Having said all that, this doesn't mean the Complete Series 1-7 set isn't without its value. As previously mentioned, if you don't have a lot of Doctor Who to date or want the complete series to date on Blu-Ray immediately, this is a great buy simply because you can get the entire collection with all the bonus material that's been previously released. And Doctor Who on Blu-Ray looks greater than it's ever been - a vast improvement over the DVD versions. It's a wonderful set to find under your tree this holiday season.
But where this release falters is in providing for the die-hard fans; it's too expensive per season with too little new material to justify a double-dip, especially when there's likely another one waiting around the corner. As long as there's a Doctor in the TARDIS, we'll have no shortage of opportunities to bring home his adventures.
(c)2013 Brittany Frederick. Appears at Starpulse with permission. All rights reserved. No reproduction permitted. Visit my official website and follow me on Twitter at @tvbrittanyf.