Do You See What 'Dexter' Sees?
Lemme just get this out of the way: This episode ended before it even got started. I was totally sucked into the story and what felt like about 20 minutes passed and then the end credits were rolling. Honestly, I hate when that happens. It leaves me hanging for longer than usual for the following week's episode.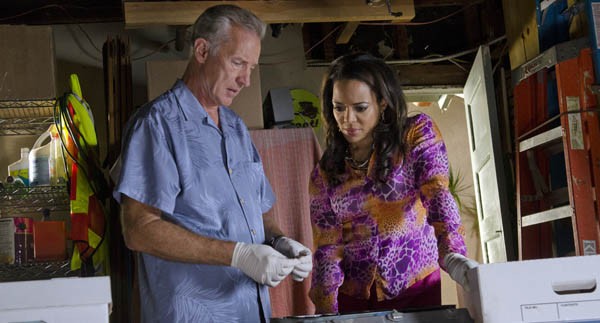 Right out of the gate, the heat is on high and it's right beneath Dexter. Of course it's coming from retired police detective Tom Matthews and Captain LaGuerta. Matthews was asking him some very specific questions, which Dexter immediately recognized as a form of interrogation. To be fair, Matthews wasn't being particularly careful or cautious in his approach.
In the meantime, Dexter is summoned to a parole hearing for Hector Estrada, the man who masterminded the murder of his mother. Rather than protesting the parole, which seemed likely to occur either way, Dexter left me with the impression he was quite content with Estrada on the outs. I was also left with the feeling that LaGuerta was the muscle behind Estrada's release, to entice Dexter to act like the Bay Harbor Butcher.
When Dexter finally catches up with Debra, he tells her that Matthews and LaGuerta are onto him, and not just in some sort of "maybe they think it's me" kind of way. He means they're onto him. He confides in her he's got to knock them off his trail, once and for all.
From the moment he uttered this I figured he was going to engineer the murder of Estrada, most likely with Hannah doing the wet-work while he's busy hanging out with LaGuerta, Debra, Matthews, or any combination of the three.
Perhaps my imagination was running wild, or I was thinking too obviously, because Dexter wound up planting evidence that led directly to Doakes. Something, however, tells me the planted evidence was a little too convenient, at least for LaGuerta, and they're not quite off his trail.
Debra finally tracked down Arlene (Nicole LaLiberte), the one person who can tie Hannah directly to the murder of a counselor. She threatened Arlene with the very real possibility of taking her kids away from her if she doesn't cooperate and spill the beans on Hannah. Of course she does what any good friend would do, particularly if they're busy trying to save their own hide.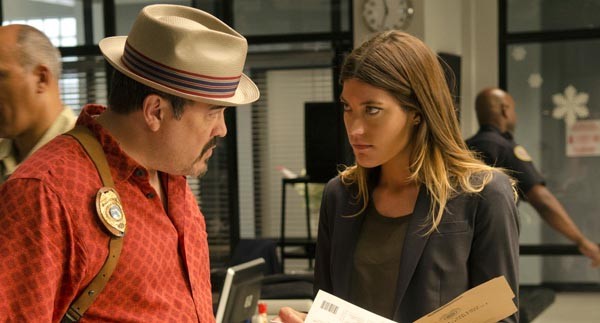 Hannah, who's certainly good at making people understand she's a serious player who means business, pays a visit to Debra, asking her to please just back off and leave her alone and Arlene alone. Shortly after Debra tells her to pound salt, Dexter gets a call that Debra has been in a car accident and is in the hospital.
Dexter visits her in the hospital and is quite shaken when Debra tells him Hannah paid her a visit the night before. I instantly felt what Dexter felt: the high probability that Hannah had poisoned Debra. I mean it's not like she doesn't have priors, and the M.O. is precise, even if Debra does have an abundance of prescription anxiety meds in her blood that were prescribed to her.
The only thing Dexter wants for Christmas is for Hannah to not have poisoned his sister. It might be too tall of an order even for old Saint Nick.
At the same time, Dexter is trailing Estrada, getting everything together to take him down. He poses as a pot dealer with a ton of gear he can't move and needs Estrada's help getting rid of it. Dexter drops a few names, people Estrada knows, to build some street cred. The plan—surprise, surprise—works and they arrange to meet later that night, which happens to be Christmas Eve.
Dexter goes to visit Debra's totaled car in the junkyard and discovers a bottle of water, partially drank, beneath the driver's seat.
I don't want to give too much away, but I do have to wonder if Hannah has some sort of desire for Dexter to kill her. I mean how can you date a police-forensic scientist and leave evidence like that behind? Did she think he somehow wouldn't test it?
Estrada and Dexter meet up that night in the shipyards, and of course the cargo container is one of Dexter's clean rooms. He's going to dismantle Estrada with a chainsaw until Estrada begins running his mouth about LaGuerta. How she was really pushing for his parole. Dexter knows he's been setup by LaGuerta and leaves the cargo container with Estrada, who winds up escaping.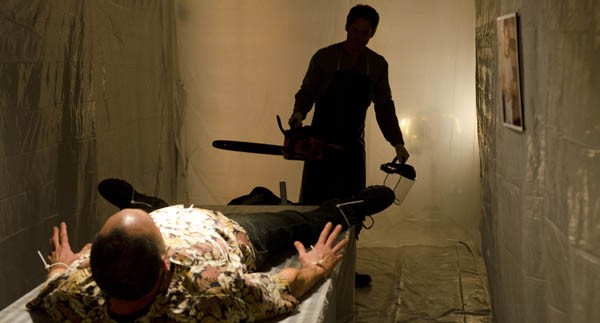 In the meantime the test results are in on the bottle of water. In the final scene, which came far too quickly for my tastes, Hannah is hauled away in handcuffs, charged with a very unlikely murder. The evidence, surprisingly, came from Dexter.
As the final credits rolled I instantly understood how blood is truly thicker than water.
What do you think? Did Hannah really do it? Stephanie Caldwell, writer for CableTV.com, isn't so sure. Stay tuned for next week's review. Maybe we'll find out.