Do Celebrities Leak Their Own Sex Tapes And Nude Pics?

As expected and not surprisingly,
Grey's Anatomy
star
Eric Dane
and his wife
Rebecca Gayheart
have filed a lawsuit against Gawker.com and a journalist for posting a private home video of the couple walking around nude in their apartment and sharing porn names in a bubble bath. The couple along with their friend former Miss Teen USA Karin Ann Peniche appear nude and heavily intoxicated in the video. The video has been circulating around the internet for a month now. The couple are suing for $1 million in damages and an injunction preventing further postings of the video online. The couple's attorney has denied they leaked the tape themselves. But how many times have we heard this before?
There have been so many celebrities who have denied that they leaked their own sex tapes or nude pictures. Like Dane and Gayheart, these celebrities have filed lawsuits in an attempt to stop the distribution. But in the end, these same celebrities always reach a settlement in or outside of court to share profits from the video. This has led many skeptics to question whether these stars authorize the release and distribution of their private images as a publicity stunt to enhance their careers.
We've seen a number of celebrities rejuvenate or even boost their career by releasing a sex video.
Dustin Diamond
(aka Screech from
Saved By The Bell
) permitted the release of his own sex tape a few years ago to revamp his career. The tape's release generated some buzz and gave Diamond the 15 minutes of Fame he desperately desired. But since appearing as a contestant on VH1's
Celebrity Fit Club
, Diamond's career has once again come to a screeching halt.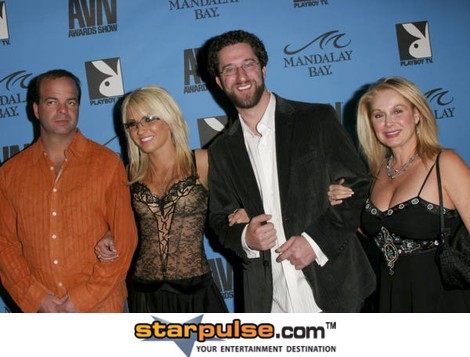 Similarly, former WWE stars Joanie Laurer (aka
Chyna
) and her ex-boyfriend Sean Waltman (aka X-Pac) sold their homemade sex tape to a pornographic distribution company. Laurer achieved some success after the release of the tape by starring in VH1's
The Surreal Life
season four. And just last year, nude pics of
Adrienne Bailon
, of
Cheetah Girls
fame, surfaced online. At the time, Bailon claimed the pics were on her laptop computer which was stolen at an airport. The pictures were made for her then boyfriend Rob Kardashian of
Keeping Up With the Kardashians
. Since then, a representative for Bailon has admitted that he and Bailon released the pictures as a publicity stunt to "give a bump" to Adrienne's career. Adrienne has not commented about this allegation or the pictures since.
While many celebrities intentionally leak their sex tapes and pictures, other celebrities are victims of theft and have had their most intimate moments released and distributed without their permission.
Limp Bizkit
front man
Fred Durst
had a sex tape stolen by a repairman who was repairing his computer. Durst later sued ten websites including Gawker.com for posting the video.
Last year
Verne Troyer
had a
sex tape of himself
and his former girlfriend stolen from his home. The video was being sold by the same producer who released Paris Hilton's sex video in 2003. Troyer sued all parties involved for invasion of privacy and copyright infringement.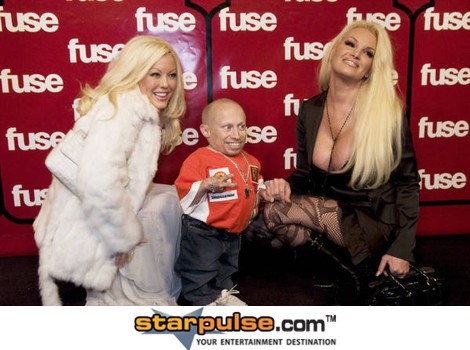 Image © Inez Lewis / PR Photos
The sex tapes of socialites
Paris Hilton
and
Kim Kardashian
were leaked by their boyfriends or people they were close to. Both Hilton and Kardashian attempted to take legal action to stop the distribution, but they settled for financial gain and fame.
Whether these sex tapes and nude pics are accidentally or intentionally leaked, celebrities achieve a certain level of fame and popularity from them. In the nineties, a private home video made
Pamela Anderson
an iconic figure almost like
Marilyn Monroe
. Nude pics of Vanessa Hudgens have made her a popular actress in Young Hollywood. A recent peephole video of ESPN sideline reporter Erin Andrews has earned her the attention of the Paparazzi.
So, it's understandable why some celebrities would leak their private footage and images for millions of people to see. They do it for fame and fortune. Releasing any ordinary video isn't going to generate any kind of buzz in the media. But releasing a sex video starring a celebrity is going to make news and attract a lot of people, which then leads to stardom.
Story by
Maccorley Mathieu
Starpulse contributing writer