DMX To Scrap German Concerts Due To Passport Issues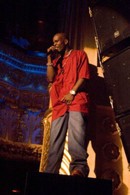 Troubled rapper DMX has been forced to scrap a slew of upcoming shows in Germany due to passport problems.

The embattled star, who's been in and out of jail over the last few years, was due to stage a total of six concerts in the country beginning on March 29th, but he's now axed his plans because of travel issues.

The rapper's representative, Domenick Nati, tells AllHipHop.com, "The team is doing everything we can to make an international tour possible for DMX. We have more logistics to work out, and as soon as we do, we will be creating a tour for X to perform for his fans across the world."

It is not yet known whether DMX's brushes with the law are to blame, as the Party Up (Up In Here) hit-maker has been arrested on several occasions. His most recent run-in with police took place last August for reckless driving and driving on a suspended license.
His previous convictions include charges for drug possession, theft and animal cruelty.