DMX Has Another Brush With The Law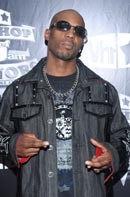 Troubled rapper DMX had a brush with cops last week after he was given a ticket for driving without a seat belt.

The hip-hop star, who has been in and out of jail in recent years, was motoring through Los Angeles when police officers pulled over his car.

The rapper and his assistant were both given tickets for failing to wear seat belts and then allowed to continue their journey.

DMX tells TMZ.com, "Just a minor ticket, no biggie. A quick learning lesson about not wearing a seat belt. I will handle and pay for it. This would be the only reason I come in contact with the police because I am a changed man."